Total War: THREE KINGDOMS – List of Retailers
Total War: THREE KINGDOMS
---
---
The next title in the award-winning Total War strategy series and the first to explore ancient China as a theatre of conflict now has an official release date: 7th March 2019. Choose from a cast of legendary Warlords, unite China under your rule, and build a legacy that will last through the ages.
Also available is a special limited edition that includes the following:
Premium Deluxe Case
High quality game case made of authentic calligraphy paper adorned with box-art that masterfully melds painterly Chinese watercolour and ink effects.
Double-Sided Campaign Map and Warlord Poster
Get a closer look at your cast of playable Warlords and the lands you will conquer with them. One side outlines the vast geography of China as it sits before you, the other introduces you to the varied characters and playstyles at your disposal.
Plus, anyone ordering the game before release or within one week of launch from a SEGA approved retailer will receive a free Early Adopter bonus, the Yellow Turban Rebellion Warlord Pack DLC.
Yellow Turban Rebellion Warlord Pack DLC – Early Adopter Bonus (Digital Content)
The Yellow Turban Rebellion Warlord Pack offers three playable Warlords with a full roster formed from the forgotten and downtrodden masses. Lead fanatic zealots in their crusade to topple the corrupt Han empire and forge a new empire for the people in the Grand Campaign. Harness the powers of enlightenment by studying the 'Three Books of Great Peace' focused on the three virtues of Taoism: Frugality, Compassion, and Humility.
SEGA products are sold directly from the SEGA store and through a global network of trusted retailers authorised to sell SEGA products. If you purchase your SEGA products from an unauthorised retailer, there is a risk that the product may be defective or unlawfully obtained. We strongly encourage you to protect yourself by purchasing SEGA products from the list of authorised retailers.
We'll begin adding linked to approved storefronts stocking the limited edition below once they go live.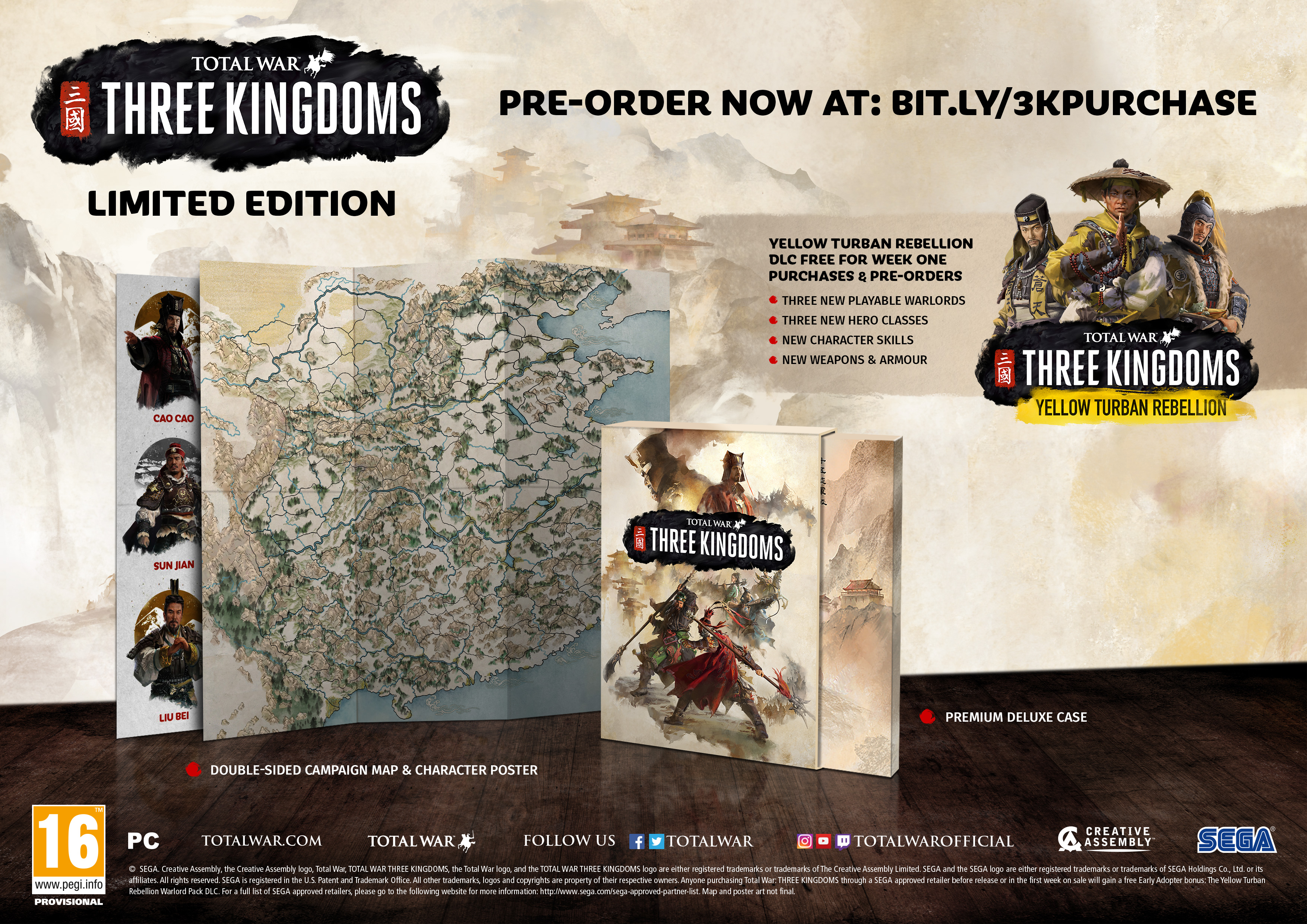 Germany
UK
Italy
GameStop
Amazon
MediaMarkt
France
Spain
Australia
Denmark
Finland
Norway
Sweden
New Zealand