Total War: THREE KINGDOMS – Development Update
Total War: THREE KINGDOMS
---
---
It's been an incredibly busy and exciting time for us in the studio. We've been able to show you more of Three Kingdoms than ever before and taking the time to evaluate it thoroughly.
There are some revolutionary features going in and it's looking really good. But we want to make sure it's great. So we're moving the release date to 23 May, 2019.
With Three Kingdoms, we set out to create a new level of complexity. As such, we need a little more time to make sure these systems deliver as intended and give you the Total War experience you've waited so patiently for.
Of course, the extra time won't hurt when it comes to fixing those bugs that have been hard to nail down, getting the localisation just right, and adding additional polish to help it shine. We all know those little details make a big difference.
We're lucky to be in a position to do the right thing for our games, and in this case it means taking the time to get everything ready for you. It's more important to give you a game that you can enjoy to the fullest, rather than stick to a release date just because.
We know not everyone's going to be happy about this, but ultimately, we believe this the best thing for the game and our players.
Thanks,
Rob
FAQ
Will this affect/delay the upcoming WARHAMMER II DLC?
No, this will not have an effect on or delay the upcoming WARHAMMER II DLC, but this does mean that the WARHAMMER II DLC will now arrive before the release of THREE KINGDOMS.
As we said, we need a little more time to make sure that this is the Total War experience that you've come to expect and waited so patiently for.
Will you fix this specific issue?
Right now, we're not commenting on individual issues, but focusing on creating a high level of polish across the board.
What do you mean by "polish"?
Polish means a whole bunch of things. Such as two consecutive specific battle animations transitioning smoothly, or making sure our language and localisation is executed to the highest standard, or ensuring that the lighting is well balanced across different types of weather and environment variables. We're looking at the whole game and seeing what we can improve.
How will this affect my pre-order?
The only thing that will change is the release date – your pre-order will still be valid and you shouldn't experience any issues surrounding it. If you do have any issues or further questions, please contact SEGA support or your individual retailer.
And don't forget, we'll be showing you much more of the game before launch – to get started, check out our livestream schedule below: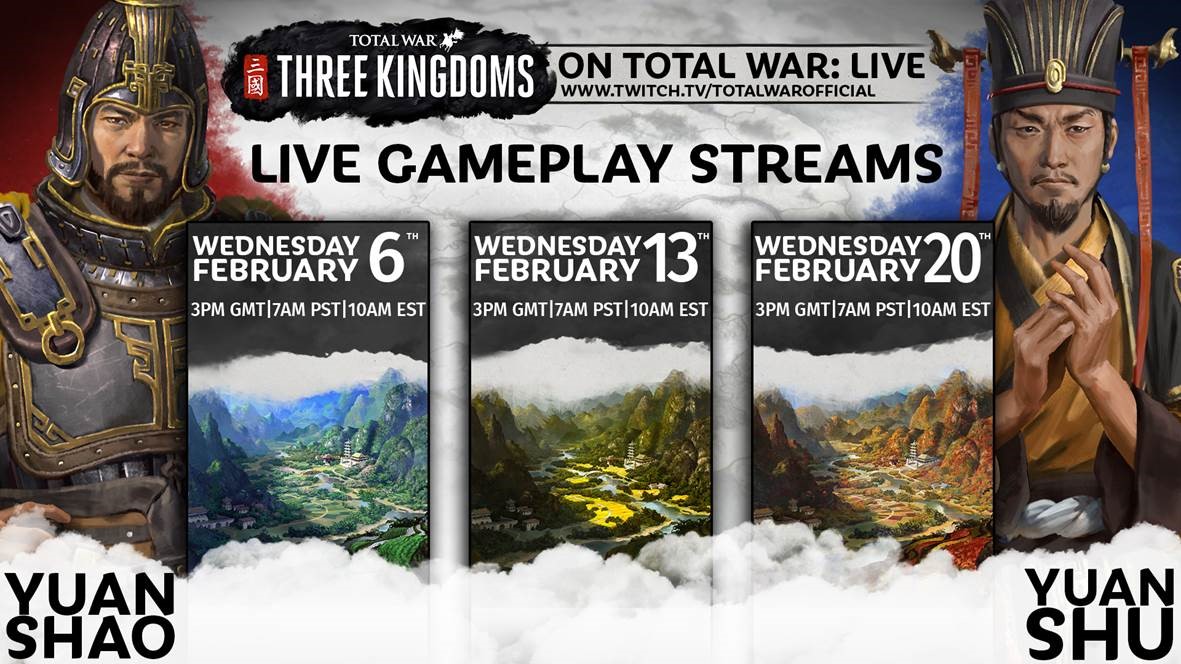 全面战争:三国——开发更新
整个工作室现在正处在一个非常繁忙紧张而又刺激的时期。对于三国我们有比以往都更多的东西能展示给玩家,同时也在认真的对这些内容进行评估。
游戏中有许多看上去已经很棒的革命性新内容,为了确保这些内容的质量,我们决定将发售日期推迟到2019年五月二十三日。
我们在三国中加入了一整套新的复杂系统 ,也因此需要更多的时间确保这些系统按照设计正常工作,从而提供符合玩家期望的全战体验。
当然,更多的时间也会对修复减少各类bug,做好本土化以及打磨优化有所帮助。我们都很清楚这些能对游戏有多大的影响。
我们很庆幸我们能为我们的游戏做正确的选择,这意味着我们要花更多的时间确保给玩家的游戏品质万无一失。相比于不顾品质而严格遵守发售日期,给玩家喜欢并且完整的游戏体验更为重要。
我们明白不是所有人都喜欢这个决定,但是我们相信这是为了玩家和游戏所做的最佳选择。
不,这不会影响或延后下一个战锤2DLC。不过现在战锤2的DLC会在三国前发售了。
如之前所说,我们还需要一点时间来确保这款全面战争的品质符合玩家的期待与等待。
我们目前不对特定问题进行评论,我们的总体目标集中在高度打磨提升整个游戏品质。
只有发售日受到影响——你的预定都依然有效且不应该因延期出现任何问题。如果你有遇到问题或者疑问,请联系世嘉客户服务或者你的零售商。
打磨包括了很多内容。比如让战斗动画能顺畅切换,保证用语以及本土化能符合高标准,或者是确保光照在不同的天气和环境下的设定平衡。我们在审视整个游戏,查找哪里可以提升。