Top Total War Places to Visit
---
---
Taking a break from playing Total War but want to bring the Total War experience with you? Good news! We've assembled a list of fun and fascinating places for you to visit should you find yourself in the UK and wanting to soak up some history (and/or Warhammer) – where will you go first?
The National Maritime Museum, London
Website: https://www.rmg.co.uk/national-maritime-museum
The National Maritime Museum catalogues the incredible stories of exploration and endeavour that helped shape the modern world. In addition to regular special exhibitions and guided tours, the museum houses galleries with over 1,100 historic objects on display. Additionally, if you play Total War: EMPIRE or Total War: NAPOLEON, you may have noticed that the National Maritime Museum is credited as having provided the ship plans for these games.
The Ashmolean Museum of Art and Archaeology, Oxford
Website: https://www.ashmolean.org/
The Ashmolean Museum of Art and Archaeology has played host to multiple educational events in association with Total War, with Creative Assembly having contributed to the Storms, Wars and Shipwrecks summer exhibition as well as illustrating War in the Time of Alfred with the help of Thrones of Britannia as part of the 2018 Festival of Archaeology. Founded in 1683, the museum's world-famous collections include everything from ancient Egyptian mummies to contemporary art, telling human stories across cultures and across time.
The Weald & Downland Living Museum, Chichester
Website: https://www.wealddown.co.uk/
The Weald & Downland Living Museum first opened in 1970, and features a collection of rescued and replica historic buildings that tell the stories of the people who lived and worked in rural South East England over the past 1,000 years. In addition to having an Anglo-Saxon hall house, Tudor kitchen, 17th century water mill, and Edwardian tin church, the Weald & Downland Living Museum also played host to a promotional event for Total War: WARHAMMER in February 2016 – you can check out some photos of the event here.
The British Museum, London
Website: https://www.britishmuseum.org/
The British Museum came about as a result of the will of physician, naturalist, and collector Sir Hans Sloane, who bequeathed his whole collection to King George II for the nation in exchange for a payment of £20,000 to his heirs. First opened to the public in January 1759, the museum's collection was originally largely books, manuscripts, natural specimens, and some antiquities, but has expanded its collection greatly over the centuries. The Museum makes an appearance in Total War: EMPIRE as being able to be built by the British empire and taking a mere eight turns to erect.
The Portsmouth Historic Dockyard, Portsmouth
Website: https://www.historicdockyard.co.uk/
The Portsmouth Historic Dockyard is an area of HM Naval Base Portsmouth that is open to the public and boasts a wide variety of things to see and do. First opened in 1911, it is home to two ships that have featured in Total War games: the HMS Victory (Total War: EMPIRE) and the HMS Warrior (A Total War Saga: FALL OF THE SAMURAI). The HMS Victory is one of the world's most celebrated warships, with a route through it that allows you to follow in the footsteps of Nelson himself. The HMS Warrior was the world's first iron-hulled, armoured warship, which never fired a shot in anger but changed the face of naval warfare forever.
Warhammer World, Nottingham
Website: https://warhammerworld.warhammer-community.com/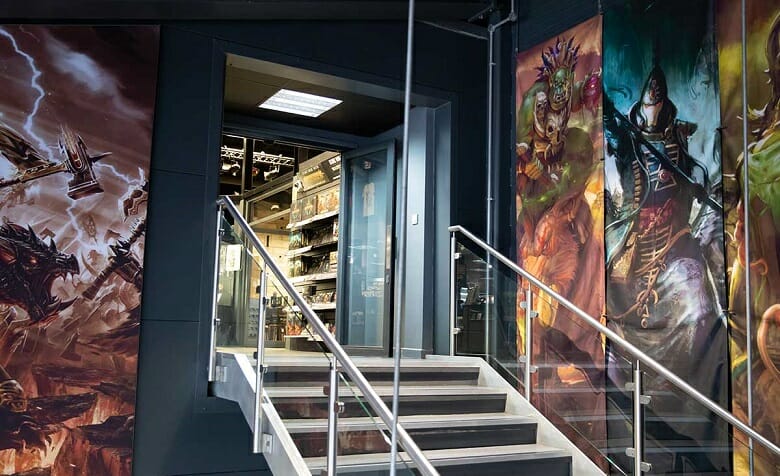 This entry speaks for itself! Warhammer World is a must-visit if you're a Warhammer fan. As well as regular tabletop gaming events taking place in the event hall, there's also the exhibition centre, which is packed with incredible displays and dioramas. The Warhammer and Forge World Stores are on hand if you need to reinforce your army or stock up on special exclusive items, while Bugman's Bar is on hand if you need to fuel up on a feast between battles.
Still not satisfied? Make sure to check out the first edition of our new Total War IRL series, where we recap our visit to the Loxwood Joust!