Behind the Voices – Total War: WARHAMMER
---
---
As anyone who's played pretty much any video game will know, voice actors are a prolific bunch. Join us as we take a look at some of the people who've portrayed characters in Total War: WARHAMMER I and II – you might be surprised at some of the other mantles they've assumed…
Brian Blessed
A man who needs no introduction, Brian Blessed portrayed Gotrek Gurnisson after having done so in the WARHAMMER audio books.
Dylan Sprouse
Dylan Sprouse said he wanted to do a voice for Total War: WARHAMMER II before he died – and so he became our Alith Anar.
Richard Ridings
While you may know Richard Ridings as the mighty Thorgrim Grudgebearer, he has lent his acting talent to a wide variety of roles including The Mentor in the Dungeon Keeper games, Assassin's Creed: Unity and, perhaps most contrasting of all, Peppa Pig's dad.
Kevin Bishop
Having starred as Jim Hawkins in Muppet Treasure Island in his youth and gone on to have a vast and varied career, Kevin Bishop had the honour of assuming the role of everyone's favourite pretty boy Sigvald the Magnificent.
Rachael Naylor
Rachael Naylor is the voice of our regal Alarielle the Everqueen, but she has also voiced characters in Mutant Year Zero: Seed of Evil and Wolfenstein: Youngblood.
Toby Longworth
Toby Longworth – who has voiced Beastmen, Skinks, and the Amber Wizard for us – has featured in Star Wars: Episode I, RuneScape, the Broken Sword games, Amnesia: A Machine for Pigs, Horizon Zero Dawn, and was Judge Dredd in Judge Dredd vs. Death. He's also a prolific audio book narrator, with many WARHAMMER books under his belt.
David Robb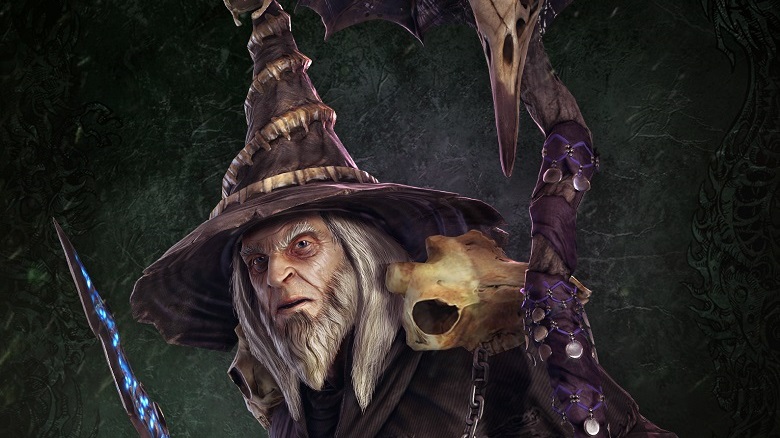 David Robb has acted in a number of iconic roles throughout his illustrious career, from Germanicus in I, Claudius to Downtown Abbey. Voice-wise, he has lent his pipes to multiple Star Wars and Harry Potter games, and in addition to playing a Light Wizard, Chaos Sorcerer, and the iconic Heinrich Kemmler he has also popped up in other Creative Assembly titles including SHOGUN 2, ROME II, and Alien: Isolation.
Ali Dowling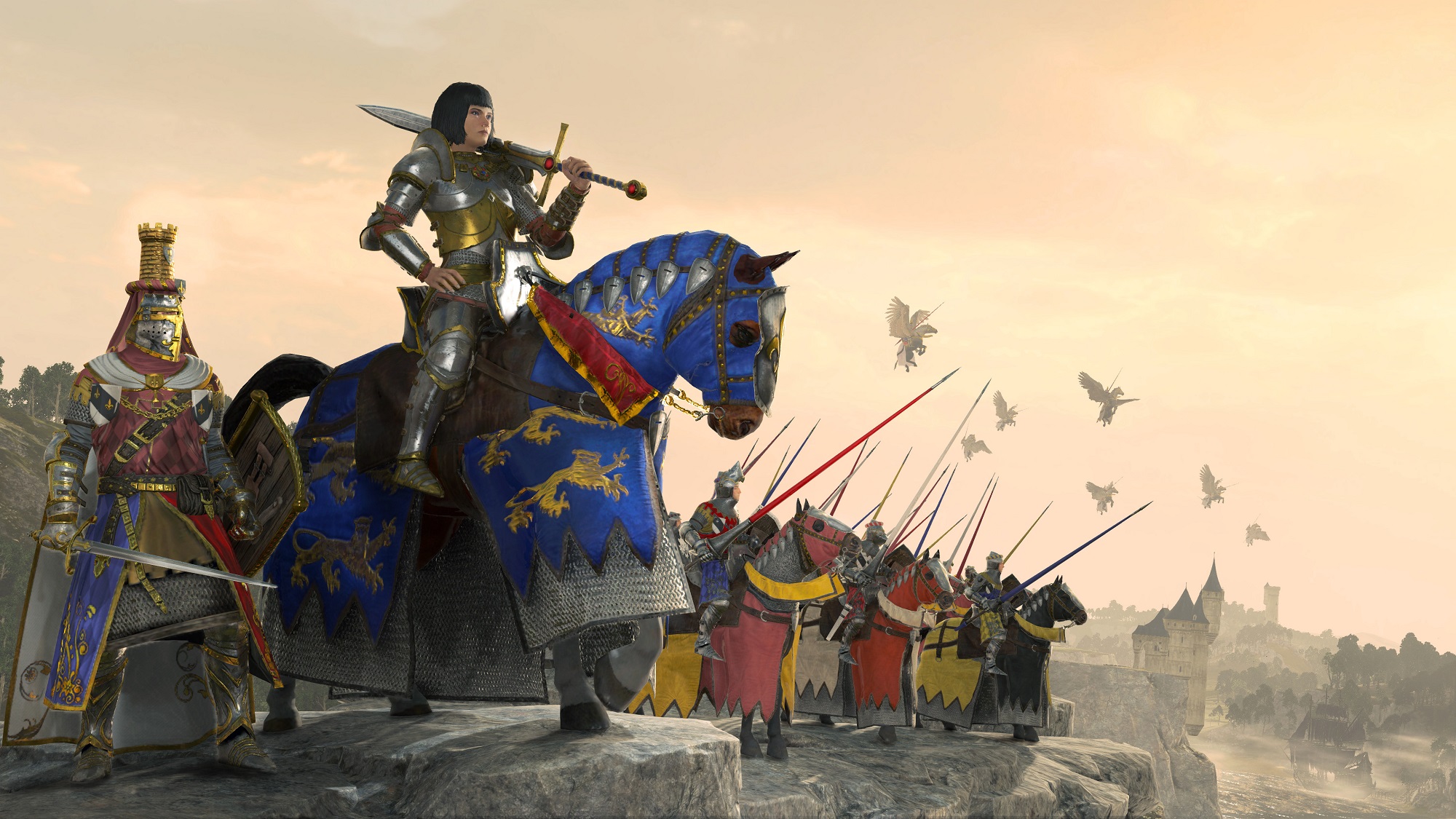 Ali Dowling provided the voice for Repanse de Lyonesse, but before getting involved in video games she was a TV regular. She can also be heard in Driver: San Francisco, The Witcher, Everybody's Gone to Rapture and has been a walla artist for everything from Horizon Zero Dawn and Postman Pat.
Bradley Clarkson
Bradley Clarkson has the honour of being our suitably sinister Tz'Arkan, but in quite a change of pace he's also the rather more personable Ted Glen and PC Selby in beloved children's TV show Postman Pat.
Nick Boulton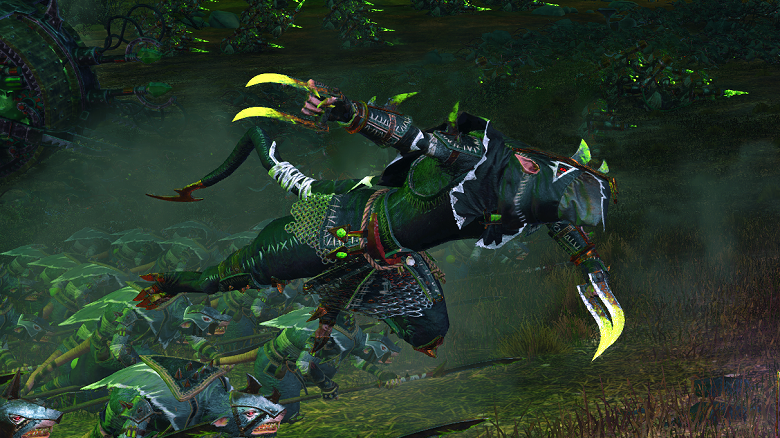 Nick Boulton, who was one of our Master Assassins, has also been heard in the Dragon Age games (including as male Hawke in Dragon Age II), Final Fantasy XIV, The Witcher II, Hell Blade: Senua's Sacrifice, and was the pit announcer in Game of Thrones.
David Holt and James Goode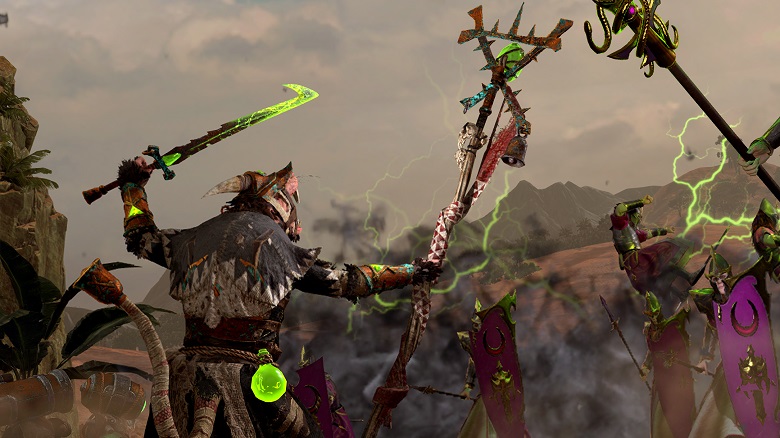 David Holt, although one of our spooky Eshin Sorcerers, is best known for being a veteran of kids TV, also having cropped up in a variety of video games including Fable, Star Ocean, Ni no Kuni, and Professor Layton vs. Ace Attorney.
James Goode was another Eshin Sorcerer, and has a resume packed with video game roles including Assassin's Creed III, Final Fantasy XIV, Soma, Dragon Quest XI: Echoes of an Elusive Age, and Hitman 2.
Sam Stockton and Geoff Breton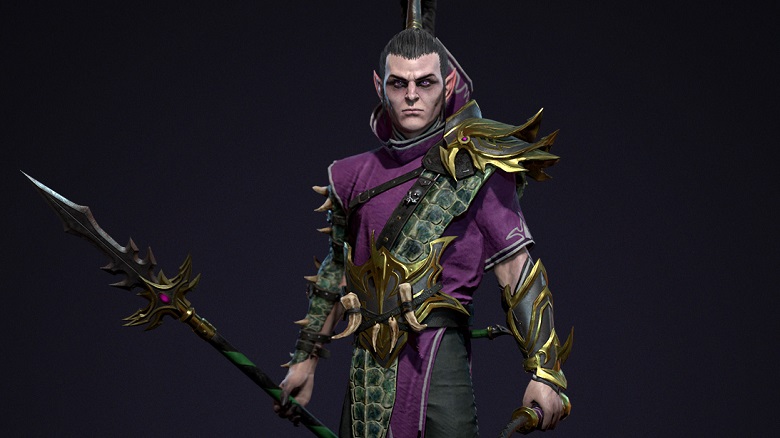 A TV regular, Sam Stockton took a break from the likes of crime dramas Whitechapel, Suspects, and Undercover to become a ferocious High Beastmaster.
Geoff Breton, another High Beastmaster, is a TV and video game regular. Most recently he's been seen in The Crown, but Fable: The Journey, Assassin's Creed IV: Black Flag, and The Witcher 3: Wild Hunt have all featured his vocal talents.
Bruce MacKinnon and Paul Matania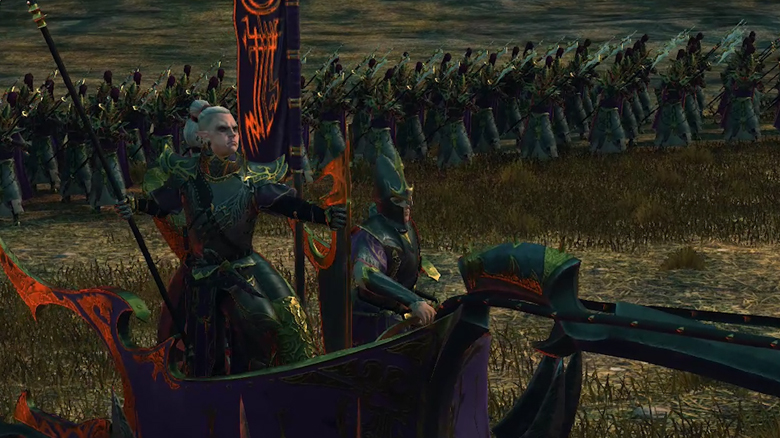 Before becoming a Master in Total War: WARHAMMER, TV and film actor Bruce MacKinnon was, among many other things, Priscus Maevius (the lawyer who unsuccessfully attempts to defend Titus Pullo in HBO's Rome), Nigel Ferret in Fable III, a one-eyed Ravager in Guardians of the Galaxy, and is a common fixture of Drunk History.
Paul Matania, another of our Masters, also appeared in Divinity: Original Sin.
Rob Rackstraw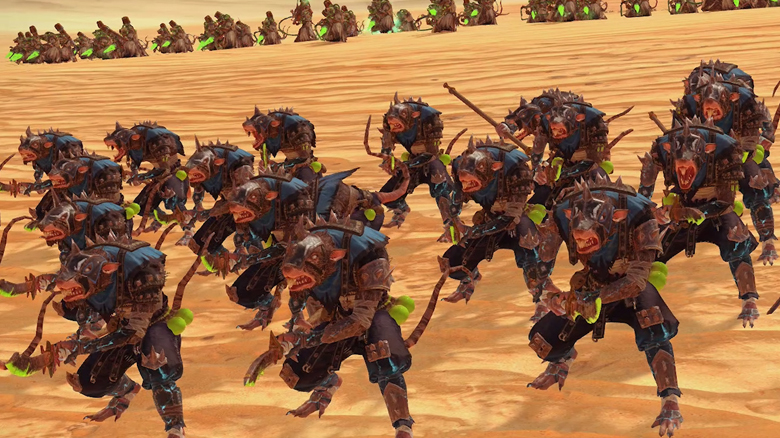 Before taking on the mantle of an Eshin Triad, Rob Rackstraw undertook a number of rather less sinister roles for children's TV, including the animated Sooty's Amazing Adventures, and a lot of Bob the Builder and Thomas the Tank Engine shows. However, we were by no means his first video game outing: he's also voiced the Harry Potter games, Star Wars: The Old Republic, and the Telltale Game of Thrones series.
Jon Edgley-Bond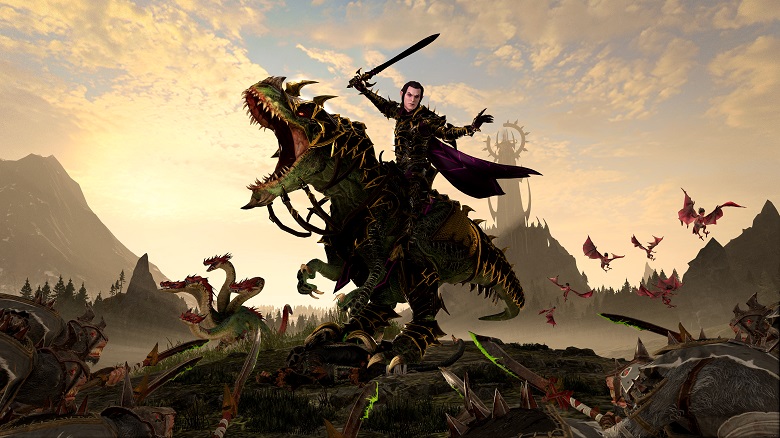 Jon Edgley-Bond's turn as the grim Malus Darkblade is rather different from the majority of his previous roles, which include TV soap operas Hollyoaks and Emmerdale as well as historical docudrama Henry and Anne: The Lovers Who Changed History.
David Cann
David Cann portrayed Huntsmarshal Markus Wulfheart for The Hunter & The Beast, but his past roles include the original film version of dystopian tale 1984, Brass Eye, Black Books, Silent Witness, Attack the Block, Les Misérables, and Killing Eve.
Alix Wilton Regan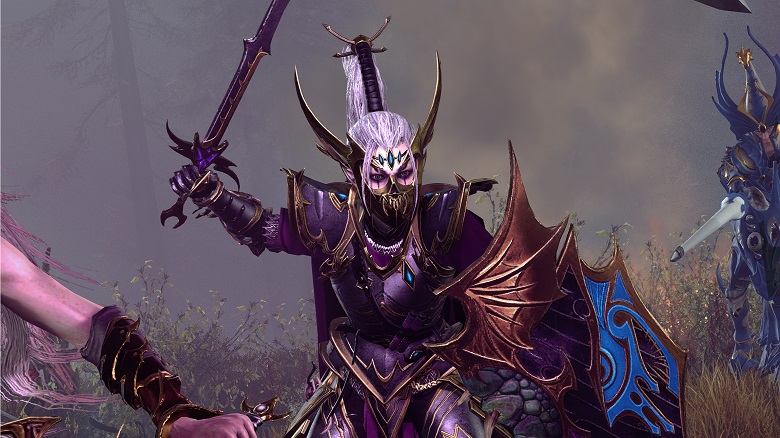 Alix Wilton Regan, who is the voice of the female Dark Elf Dreadlord, has played roles in a wide variety of video games including Mass Effect 3, multiple Divinity: Original Sins and multiple Dragon Ages (being the female Inquisitor in Dragon Age: Inquisition), Kerillian in Warhammer: End Times – Vermintide, and Aya in Assassin's Creed: Origins.
Ramon Tikaram
Ramon Tikaram – also known as Malekith the Witch King – has had a career that has spanned roles in a vast number of different mediums including Game of Thrones and Jupiter Ascending. His voice acting CV includes Fable III, Dark Souls III, League of Legends champion Kayn, Gabe Weller in Dead Space 2: Severed, and Dorian in Dragon Age: Inquisition.
Natasha Little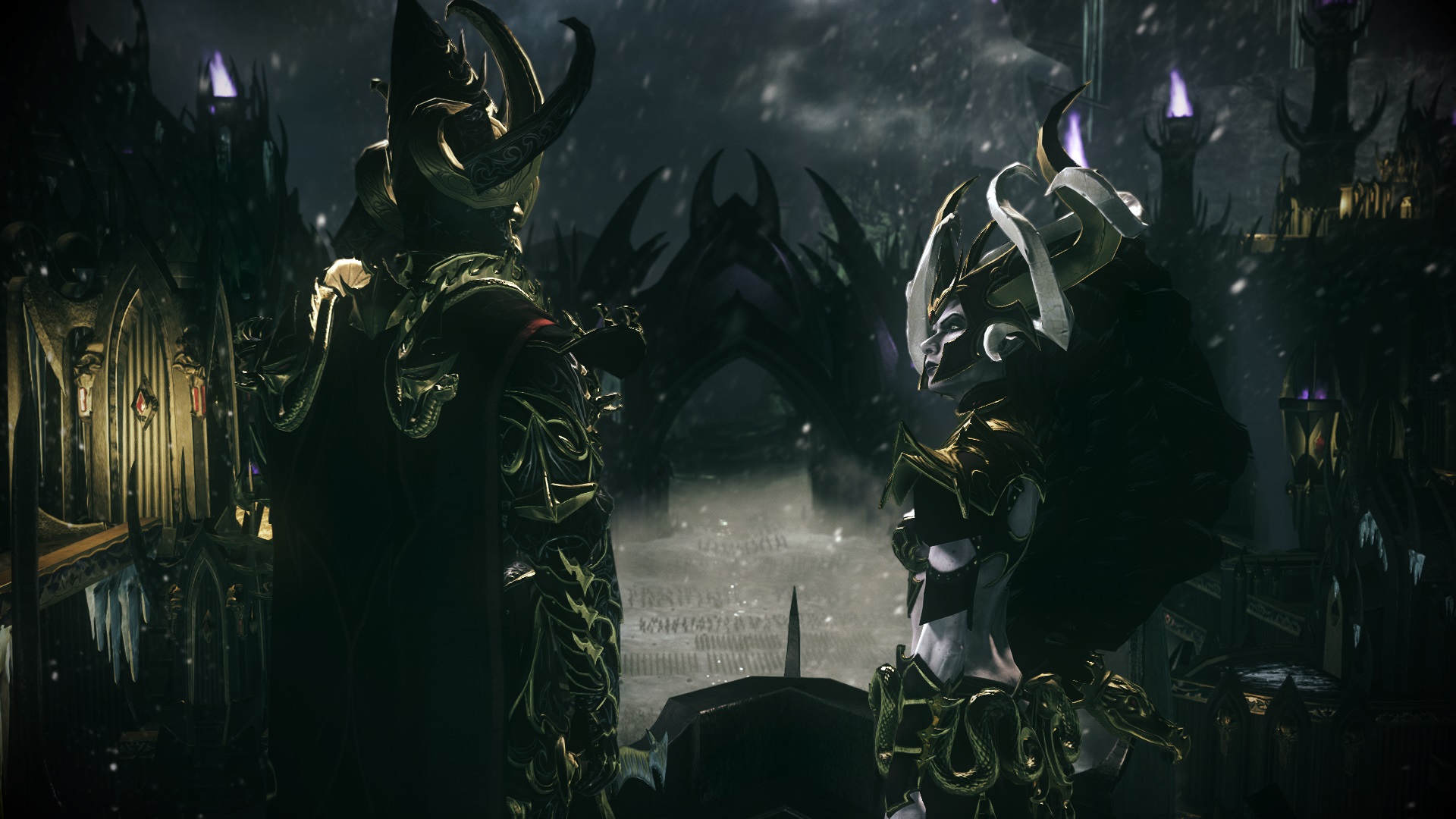 Morathi the Hag Sorceress of Grond was portrayed by Natasha Little, another actor whose career started out in TV and movies before adding video games to the mix. In addition to Spooks, Wolf Hall, The Night Manager, and the recent War of the Worlds adaptation, Natasha is also an alumnus of Dragon Age: Origins and II, Star Wars: The Old Republic, and Vampyr.
Edward Dogliani
Edward Dogliani is perhaps best known for playing Rattleshirt in Game of Thrones, a somewhat fitting role considering he also voiced Wulfrik the Wanderer in Total War: WARHAMMER. Other credits include sci-fi film The Hybrid, Battlefield 1, Dirty Bomb, Final Fantasy XIV and even our very own THRONES OF BRITANNIA.
Amelia Tyler
Amelia Tyler took on her first voice acting role aged 5, and has since become a video game voice cast staple. As well as depicting the terrifying Bloodwrack Medusa in Total War: WARHAMMER II, she can also be heard in Divinity: Original Sin II, We Happy Few, Assassin's Creed Odyssey, and Battlefield V.
Who's next?
With so many more exciting characters to come both in the world of WARHAMMER and beyond, who knows who'll be breathing life into a Total War character next…
Who would you like to hear lending their voice to an upcoming Total War game? Let us know!
Our friends over at Games Workshop recently launched a new animated WARHAMMER ident complete with fully animated Primaris Space Marine and Stormcast Eternal as well as dramatic swelling orchestral music – head over to the Warhammer Community blog to find out how it was made.