A Total War Saga: TROY Steam release FAQ
---
---
As part of the release of TROY: MYTHOS, we're bringing A Total War Saga: TROY and all of its DLC to Steam on September 2. This involves releasing a number of bundles, all of which are on discounted prices as we head up to launch, available from our own Total War Store. Here's some more info:
What are you doing?
Troy, plus all of its DLC, is now on Steam! You can buy it here.
I want the most complete Troy experience; how do I get that?
The Heroic Edition gets you Troy, the upcoming MYTHOS DLC, and the existent Amazons and Ajax & Diomedes DLCs, all for 40% off – that's £42.58 / $56.98 / €56.98. Grab it here.
Wait, what about the Blood & Glory DLC?
For age-rating related reasons, we can't offer the Blood & Glory DLC as part of a pack with the main game. However, you can purchase it separately on Steam here.
What else is on offer?
There is also the Mythic Edition, which includes the base game and MYTHOS, at 30% off, making it £38.49 / $52.49 / €52.49.
The base game is also available, at 25% off, making it £26.24 / $37.49 / €37.49. Here's a handy guide: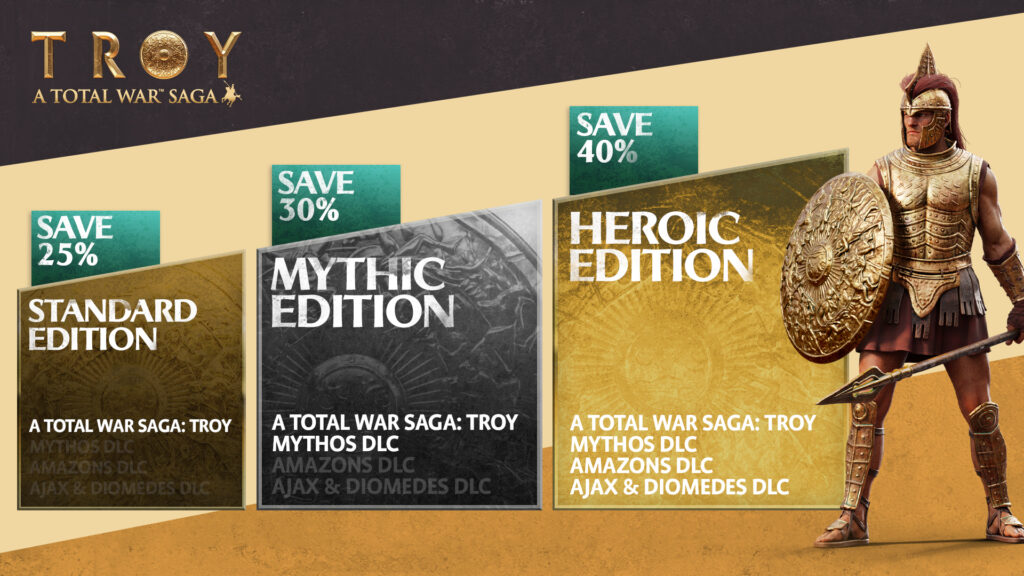 Are these discounts time-limited?
Yes, although as with all our pre-order deals, they last post-launch – in this case, until September 30.
How does this affect me if I own the game on Epic?
It basically doesn't, other than we have the new MYTHOS DLC for sale. However, if you wish to own the game on Steam, you will need to buy it separately.
Can I play multiplayer with people who bought and own the game on a different store?
Yes, we are supporting cross-store multiplayer between Epic Game Store and Steam.
Is there any difference between the Steam and Epic versions of TROY?
Nope, other than which store you boot up first and their various features and overlays. Same DLC, same achievements, same builds, same access.
Will TROY support the Steam Workshop?
Yup, TROY shipped to Steam with all its mod tools intact and had full workshop support from day one. You can read more about modding support for TROY right here.