"The fact that so many people are willing to play a five-year-old game just for our mod is so touching": an interview with the Medieval Kingdoms 1212 AD team
---
---
Here at Creative Assembly, we're always impressed by the ingenuity of the Total War modding community across our titles both new and old. Today, we're interviewing the makers of the popular Medieval Kingdoms 1212 AD mod for Total War: ATTILA, asking them what, why, and what future they envision for their mod going forwards – check it all out below.
CA: What is Medieval Kingdoms 1212 AD?
Warman: Medieval Kingdoms 1212 AD (MK1212) is a total conversation mod for Total War: ATTILA. It covers the high and late Middle Ages, starting in 1212 AD and ending at 1500 AD. It features dozens of playable factions and thousands of units across three different centuries. The mod also includes a rich campaign mode with a plethora of custom scripts and features. Named after MEDIEVAL II: Total War and the Kingdoms expansion combined, the mod aims to be the defining Medieval experience in Total War modding.
CA: Why the setting and year of 1212 AD?
Slytacular: We inherited the year from the previous mod team leader. We decided to keep it because a lot of important historical events were all happening around this time. The events of the Magna Carta are years away. The Battle of Las Navas de Tolosa occurs this year. The Byzantine Empire is shattered into successor states. Crusades are about to get underway in Cairo, Toulouse, and the Baltics. The Mongols are about to enter the scene. There was a lot going on! The 13th century also represents a time of hyper technological advancement which led to the advent of castles, gunpowder, and plate armour. We're effectively focusing on the transition from the Norman period to the Renaissance Era.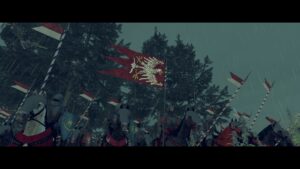 CA: How many people work on MK1212?
Warman: Our team has grown over the years, with people coming and going. They all contribute in different ways. DETrooper is our resident scripting wizard who is responsible for many of the rich campaign mechanics. Banskie and Azrien are our unit roster workhorses, focusing on making high-quality units and rosters. Zsimmortal got the campaign mode off the ground as well as making rosters for some of our Eastern factions. You_Guess_Who is in charge of our unit stats and balancing. Finix is our 2D art wizard who's been with the project for six years. Other senior members include Slytacular, our dedicated modeller, and Ltd, who does the rigging of our custom models. Warman is the modder who founded the project and team leader. We welcome anyone who is willing to learn and we are always looking for fresh blood. In particular, we could use some more help with building models, Eastern unit rosters, and 2D art – people can join our Discord if they're interested.
CA: How does MK1212 stand out from other mods?
Slytacular: We use historical sources as direct inspiration for game design, rather than using historical sources as a bible in a sense. Our unit design starts with a base, and we use the unit visuals (armour/weapons) as a guide to how we build the unit statistically. Then, we add stats based on the professionalism and training the unit has. MK1212 is also designed to emphasise the advancements of technology through time. Similar to how the Roman Empire had a massive Marian Reformation in the ROME II games, units are automatically upgraded to the next century or tier. We want the players to feel the technological changes in their units.
CA: How does MK1212 interpret sources compared with other mods?
Slytacular: We approach historical artwork differently than the norm, where we create a "what if" situation of the more plausible sources – equipment that represents something real and functional, but not seen commonly or in physical artifacts. Medieval artwork requires knowledge of how to use context in order to understand what's being portrayed. The common pattern for Medieval artwork is that the artist will draw on biblical/historical/mythical events, but the material culture displayed is very often contemporary to the artist. The MKTW1212 team try to look at historical sources at their very origins. In this way, we show players the Medieval world through their eyes, which is a technologically advancing, colourful, and rich setting.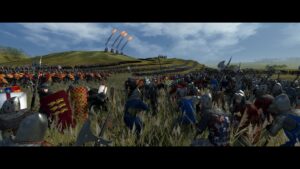 CA: Are you proud of how your mod was received?
Warman: We're very proud of how our mod was received. The 12/12 campaign release was something of a gamble as, at the time, the mod had been out for years and was custom battle only – was seen as old by many people. We knew people wanted that campaign mode but there was just so much to do to make it. We were at a crossroads: either release it on 12/12 and add the later technology and units further down the line or wait until it was all completed. We took the plunge and it turns out we made the right call – and it gave people something to look forward to in future updates. The fact that so many people are willing to play a five-year-old game just for our mod is so touching and we are eternally grateful for all the support.
CA: Is there anything you would've done differently?
Warman: I wish we were able to get the campaign off the ground sooner. We got way too focused on the faction and unit creation side and having a campaign mode sooner might have reined us in a bit. It's ultimately worked out, but things might have gotten done sooner if we were able to take a step back. Also there is a slight sense of cringe looking at older versions of the mod in terms of quality and research. There are a couple factions that are anachronistic and out of place, and at some point we plan on fixing that.
CA: Where do you see your mod going from here?
Warman: We're trying to focus increasingly on the campaign mode and gameplay as a whole. We have plenty of proposed mechanics in the works to add depth to more and more factions. We also plan to continue to revamp factions whose quality needs to be brought to a higher standard. A couple factions still only have 13th century units, and we have several regions that need playable factions to flesh them out. We're also eager to implement custom buildings and naval units for further immersion. Basically, now our main focus is to make the mod deeper, not wider.
CA: Do you have an end goal for this project?
Warman: A modder's work is never truly done, but there are things we hope to have completed one day. We hope to have all starting factions done, custom maps, custom buildings, custom naval units, and as many custom mechanics and events for most – if not all – factions as possible. If we can get that far, I'd be satisfied that our work is done. We also have plans for different start dates, and hopefully these will be quicker to manage than the original date.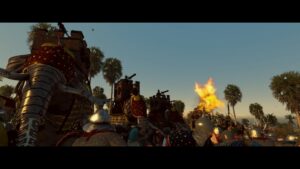 CA: Where can people play your mod?
Warman: People can find and play our mod via Total War: ATTILA's Steam Workshop. If you want a compelling and visually appealing Medieval Total War experience in a newer title than MEDIEVAL II, we highly recommend our mod. We also have an active Discord where you can get the latest updates and join our opt-in testing to test our all latest work. Lastly, I just wanted to thank CA for their time and for this opportunity.
Time to get Medieval
Want to find out more about Medieval Kingdoms 1212 AD (or even try it for yourself)?
You can find Medieval Kingdoms 1212 AD on the Steam Workshop here, and you can also join the mod team's official Discord here.