Well fancy seeing you here!
We may have wrapped up our look at Forge of Chaos Dwarfs' third and final Legendary Lord last week, but we're back once again with yet more hot drops arriving alongside Update 3.0 on April 13th!
First teased in the autumn, the latest collaboration between Intel® and Creative Assembly features two brand new game modes and is completely free for all Total War: WARHAMMER III owners.
Introducing… Mirror of Madness!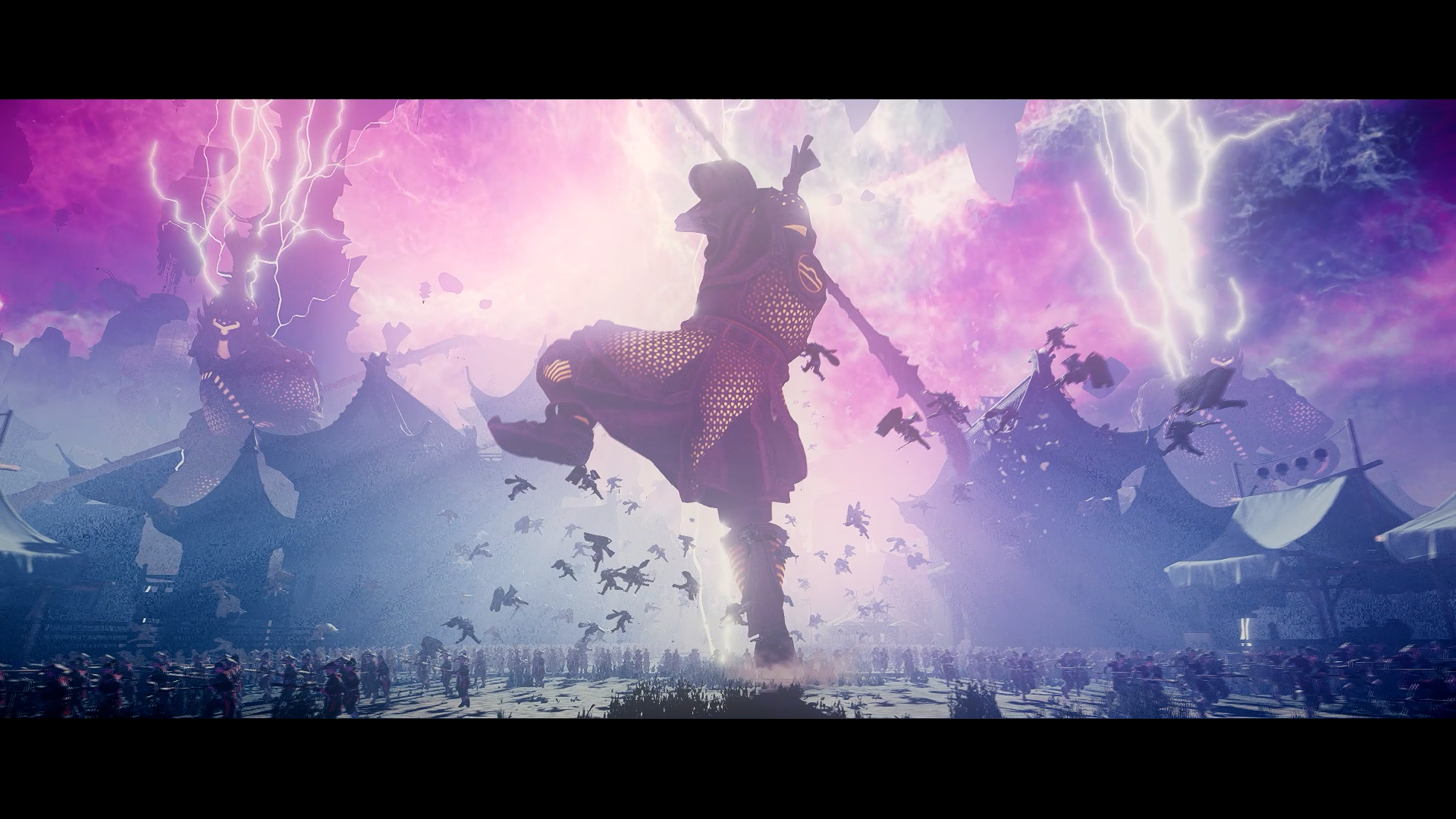 WHAT IS MIRROR OF MADNESS?
Mirror of Madness is a free addition to Total War: WARHAMMER III, releasing alongside Forge of the Chaos Dwarfs in Update 3.0 on April 13th 2023. It includes two new game modes: The Trials of Fate and The Infinite Portal.
HOW DO I ACCESS MIRROR OF MADNESS?
As free DLC, Mirror of Madness will be automatically added to your game with Update 3.0 and can be found on the Battle tab in the Main Menu.
WHAT ARE 'THE TRIALS OF FATE'?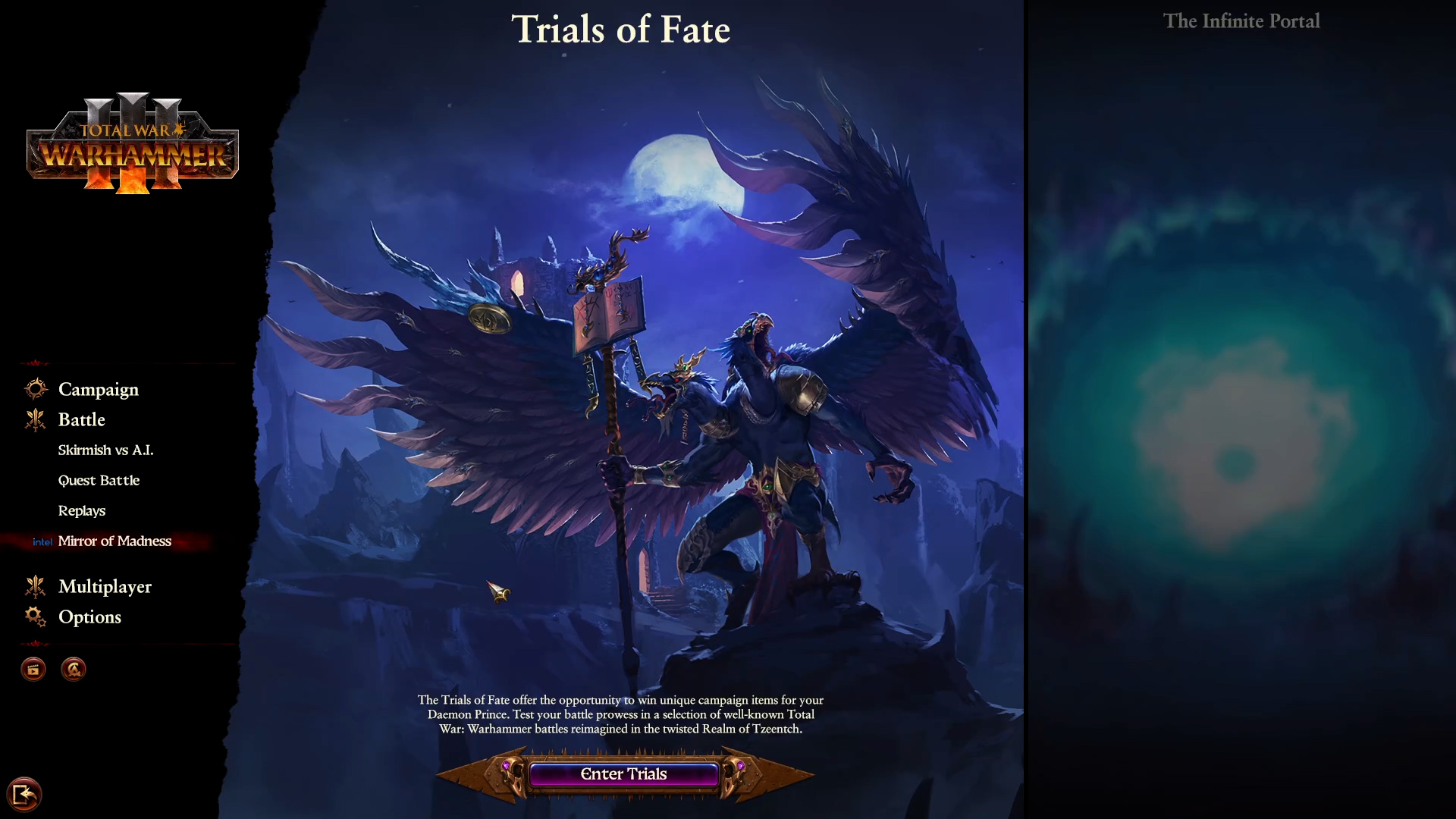 The Trials of Fate are a series of intense survival challenges where players assume the role of a newly ascended Daemon Prince of Tzeentch. Reaching back through time itself, you will fight for survival in four infamous battles from the past, before breaking through into the Realm of Tzeentch and taking the fight to Kairos Fateweaver in an intense final showdown.
Endless waves of enemy combatants will grow in strength the longer you hold out, until at last the masses overwhelm you. To help, players have access to some unique spells and abilities that could just tip the balance in their favour.
The goal is to defend a capture point called the 'Shard'. Doing so grants access to Forbidden Knowledge, which in turn can be used to upgrade the aforementioned spells and abilities. Take advantage of cataclysmic powers and mighty vortexes to send your enemies ragdolling across the Realms in crazy physics-based chaos.
The damage dealt and kills secured contribute towards your score. Do well enough and you'll unlock unique Tzeentch-themed Daemon Prince Parts for your Daemon Prince that, as well as looking dead swanky, can be used in both the Realm of Chaos and Immortal Empires campaigns.
Daniel has never looked better.
WHAT IS 'THE INFINITE PORTAL'?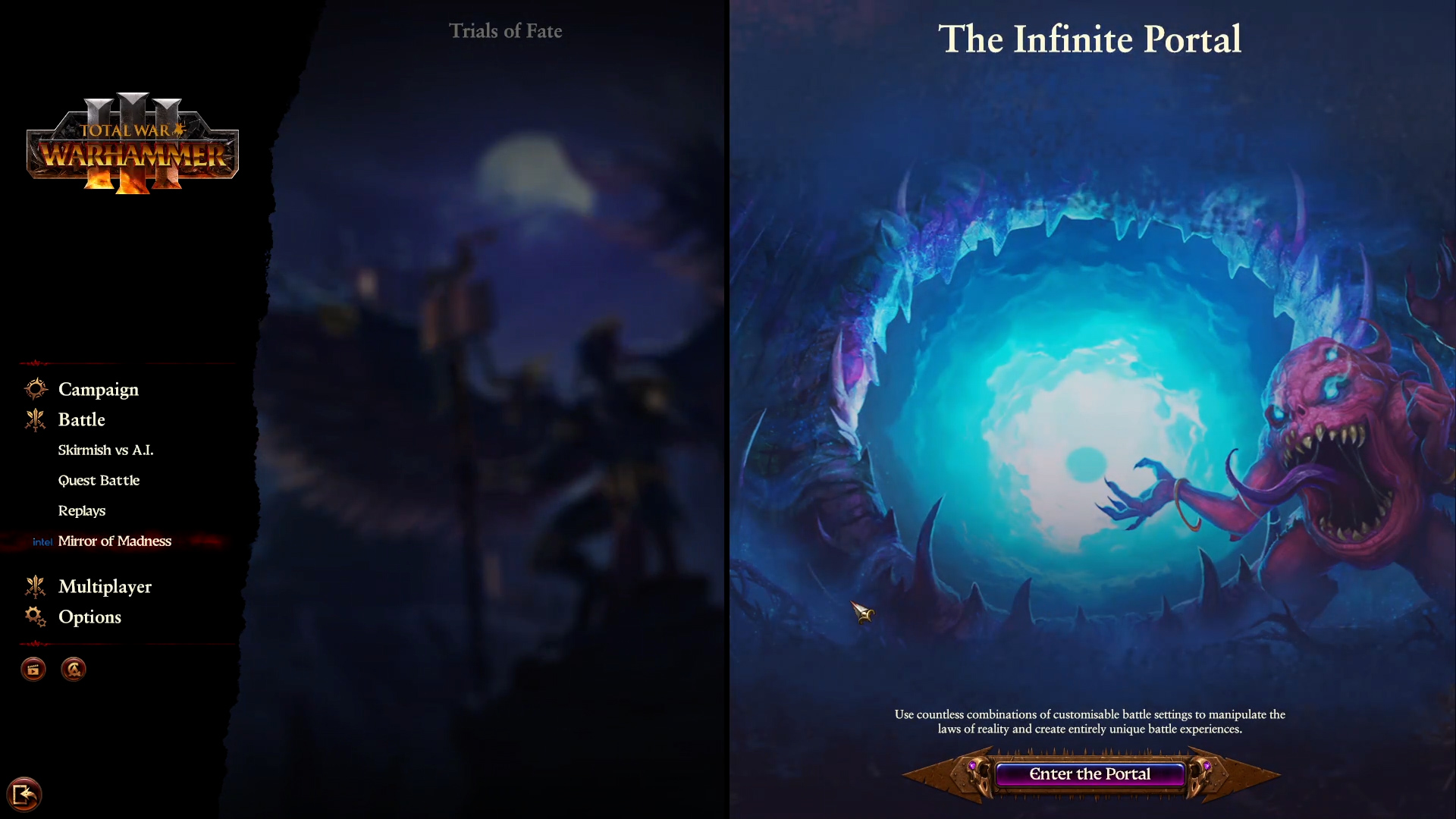 The Infinite Portal grants access to reality-bending features and settings, letting you tweak many aspects of battle as you please, including:
Unit Size: Increases the number of soldiers per unit and their health
Damage: Increases the damage dealt by attacks, spells, etc
Impact Force: Increases collision impact, attack force and detonation force to send units flying
Leadership: Increases base morale
Winds of Magic: Increases the availability of Winds of Magic for spellcasting
Explosions: Increases the size of explosions and vortex spells, improving their radius and detonation speed
Vigour Cost Reduction: Increases the duration that units stay fresh, lowering the fatigue cost of actions
Reload Time: Reduces the time it takes to reload ranged weapons
Ammunition: Increases the total number of shots per ranged unit
Projectile Penetration: Increases the distance projectiles can travel through enemies
Gravity: Decreases the effect of gravity on units who are knocked into the air
Ability Radius: Increase the effect radius of abilities
Ability Recharge: Reduces ability recharge time
Charge Duration: Increases the duration of the charge bonus
Entity Scale: Increases or decreases the size of single unit entities like Lords and Monsters
Blood Quantity: Increases or decreases the amount of blood emitted by entities emit
Have fun, go wild, become the Lord of Change.
DO I NEED TO PURCHASE FORGE OF THE CHAOS DWARFS TO PLAY MIRROR OF MADNESS?
No.
While they are launching at the same time, Forge of the Chaos Dwarfs and Mirror of Madness are separate pieces of content. Mirror of Madness is completely free to all owners of WARHAMMER III, regardless of any previous Total War: WARHAMMER titles or DLC they have purchased.
DO I NEED AN INTEL 13th-GEN PROCESSOR TO PLAY MIRROR OF MADNESS?
No.
Mirror of Madness in and of itself makes no difference to WARHAMMER III's performance. However, should you crank up The Infinite Portal's more intensive settings (such as entity scale or unit size) you may begin to notice some performance drop-off, depending on the power of your PC.
The Infinite Portal can be best seen as… an experiment. It's a fresh, isolated environment with the chance… should you so choose… to push your PC's hardware to the limit.
The Trials of Fate will also maintain a similar performance to the main game, though players who survive for a long time may find that the sheer number of units on screen at once in later waves may stretch their system resources. Should you notice a drop in frames, you can opt to lower some settings.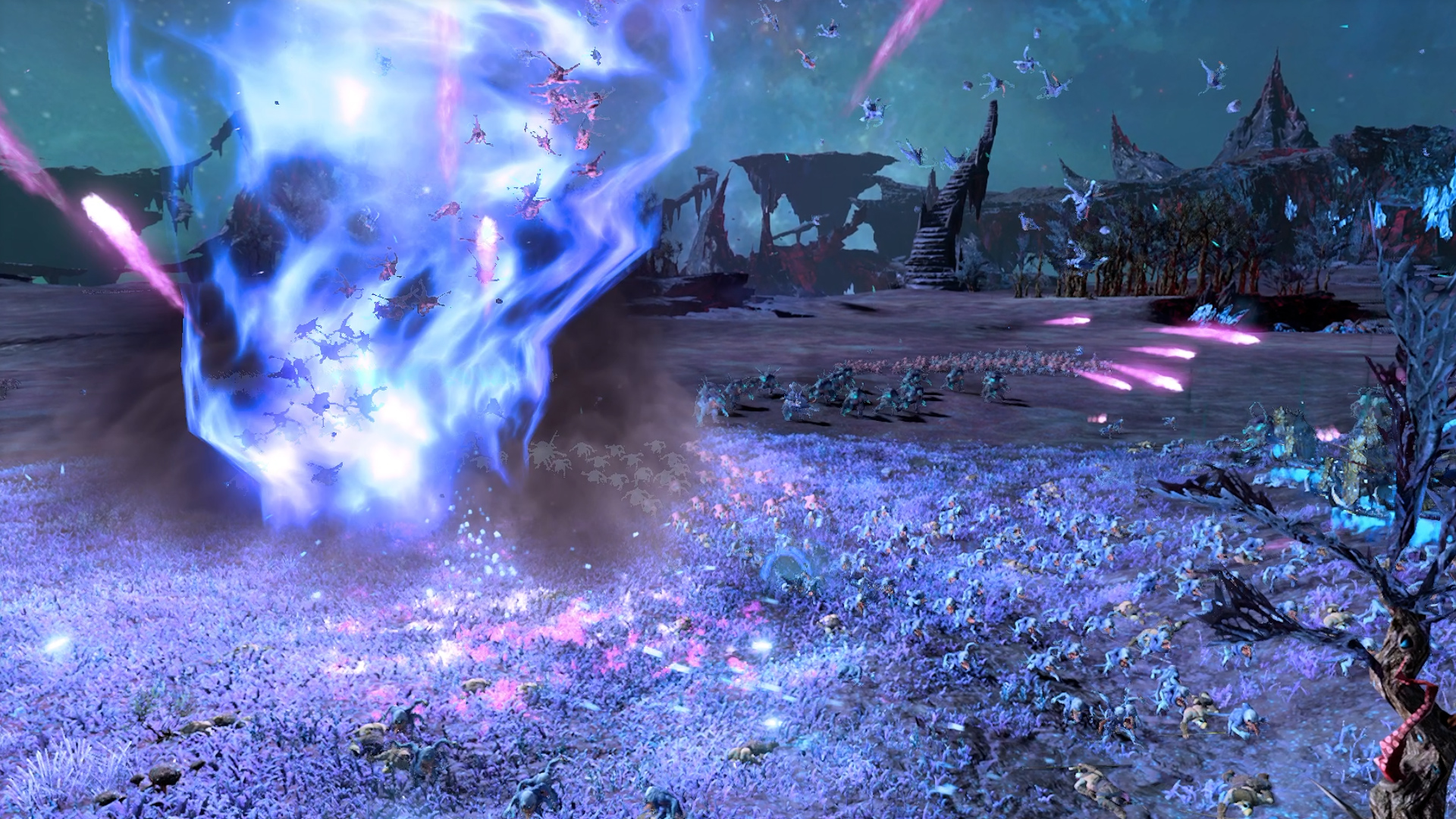 UP NEXT
And that's Mirror of Madness! For a full breakdown of this latest addition to WARHAMMER III, check out our Mirror of Madness Showcase on the Total War YouTube channel! Otherwise, when the time comes please do hop in, try it out yourself and share some of your mightiest screenshots with us on our socials!
Don't forget, Forge of the Chaos Dwarfs, Mirror of Madness and Update 3.0 all arrive at the same time on April 13th, and you can still pick Forge of the Chaos Dwarfs up for 10% less if you purchase it before April 20th.
We'll be back next week, should we survive, with the absolutely gargantuan monster of an article that is the Update 3.0 Patch Notes. Seriously… there's so much. It's so big. So many words. More like UPDATE THREE POINT WHOA amirite?