Total War: ROME REMASTERED Patch 2.0.1 notes
---
---
Languages
The 2.0.1 patch for Total War: ROME REMASTERED is now live!
Patch 2.0.1 is largely a stability patch to address one-off crashes. The focus for our next patch and beyond is to investigate and improve areas of the game including AI, pathfinding and modding functionality.
Stability
We'd like to thank all users who enabled crash reporting – many of these fixes are only possible due to these reports.
Fixed a crash when attempting to save game during an AI-only campaign
Fixed a crash when moving animal units across bridges
Stability improvements to reduce a number of one-off crashes reported by users since release
Localisation
Various improvements to Chinese voice over tracks
Various improvements to Chinese in-game strings
Various improvements to Russian in-game strings
Fixed issue with missing Russian subtitles during the Armenia faction introduction
Fixed issues with Italian subtitle syncing during the Iberia faction introduction
Fixed issue where the "Open Preferences Folder" button would not work when the system user account name used non-roman characters
Audio
Male Barbarian units no longer play female audio variations in battle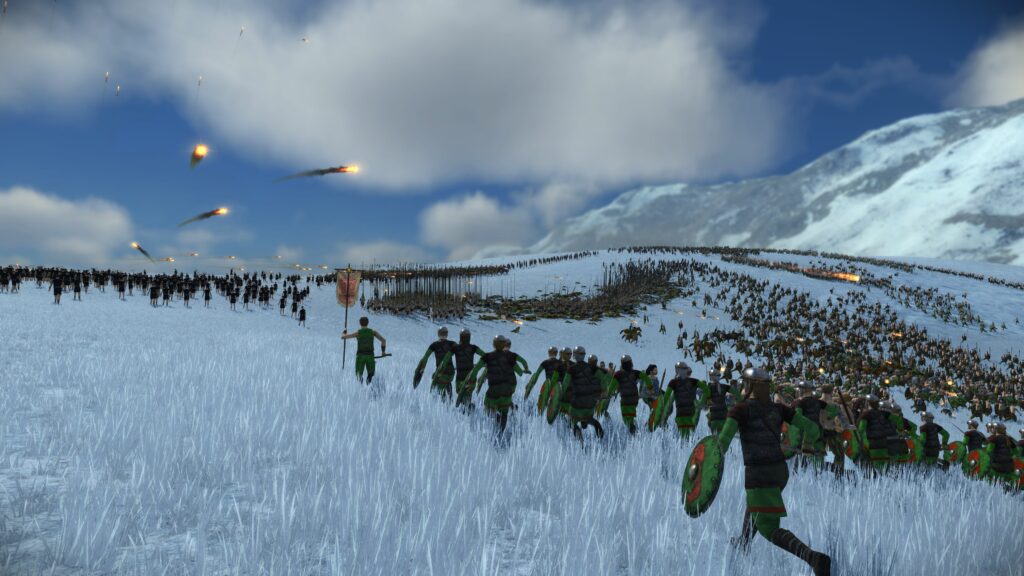 Gameplay & Visuals
Fixed an issue where descriptions and effects for Merchants' followers would not display
Added subsurface scattering effects to unit skin to address skin tone issues
Improved text wrapping for longer region names displayed inside tooltips
Improved diplomacy tooltips
AI Campaign & Battle
Rebalanced Compensation so that factions which start a war owe more compensation to the defending faction
Fixed an issue where units would face the wrong direction if ordered to attack while Guard Mode is enabled
Fixed an issue where units take up incorrect formation during siege battles
Multiplayer
Fixed a multiplayer issue where a non-host player admitting defeat could result in a desync for other players
Modding
Fixed an issue where mods may be deleted if an update process fails
Fixed a crash that may occur when editing a settlement name in database
《Total War: ROME REMASTERED》2.0.1更新
简体中文
稳定性
我们想要向所有开启了崩溃报告选项的玩家表示感谢,正是因为这些报告,我们才能够修复这些问题。
修复了在仅包含AI的战役中保存游戏时可能出现崩溃的问题。
修复了让动物单位通过桥梁时可能出现崩溃的问题。
其他包含一些游戏发售后玩家们报告的崩溃问题的稳定性优化。
本地化
中文配音优化。
中文文本优化。
俄语文本优化。
修复了亚美尼亚派系介绍中俄语字幕丢失的问题。
修复了伊比利亚派系介绍中意大利语字幕不同步的问题。
修复了当操作系统用户账户名中使用了非罗马字符时,点击"打开偏好目录"按钮时无效的问题。
声音
修复了男性野蛮人单位在战斗中会播放女性音频的问题。
游戏性和游戏画面
修复了商人的随从描述和特效不显示的问题。
为单位皮肤添加了次表面散射特效,解决肤色问题。
优化了文本自动换行,可以在提示文本中显示较长的地区名。
优化了外交系统的提示消息。
AI战役和战斗
重新调整了赔偿,提高发动战争的派系对防守方派系的赔偿。
修复了当单位启动防御模式时,若命令单位发动攻击,单位可能会面对错误方向的问题。
修复了单位在围城战中可能会采取错误阵型的问题。
多人游戏
修复了在多人游戏中,一名非主机玩家认输会导致其他玩家失去同步的问题。
Mod支持
修复了上传失败时mod可能会被删除的问题。
修复了在数据库中编辑城镇名时可能会导致程序崩溃的问题。