Total War: WARHAMMER II – Serpent God Edition FAQ
---
---
The next title in CA's thrilling fantasy-strategy series has an official release date: September 28th 2017. Set in a whole new part of the Warhammer world, it introduces four new playable races in a storming narrative campaign that builds to an earth-shattering crescendo.
Also available in a magnificent collector's Serpent God Edition, anyone ordering before release or buying in the first week on sale will gain an Early Adopter bonus of a free Race Pack DLC for the original Total War: WARHAMMER.
This yet-to-be-revealed content for the first game will be out and playable before the second game is released.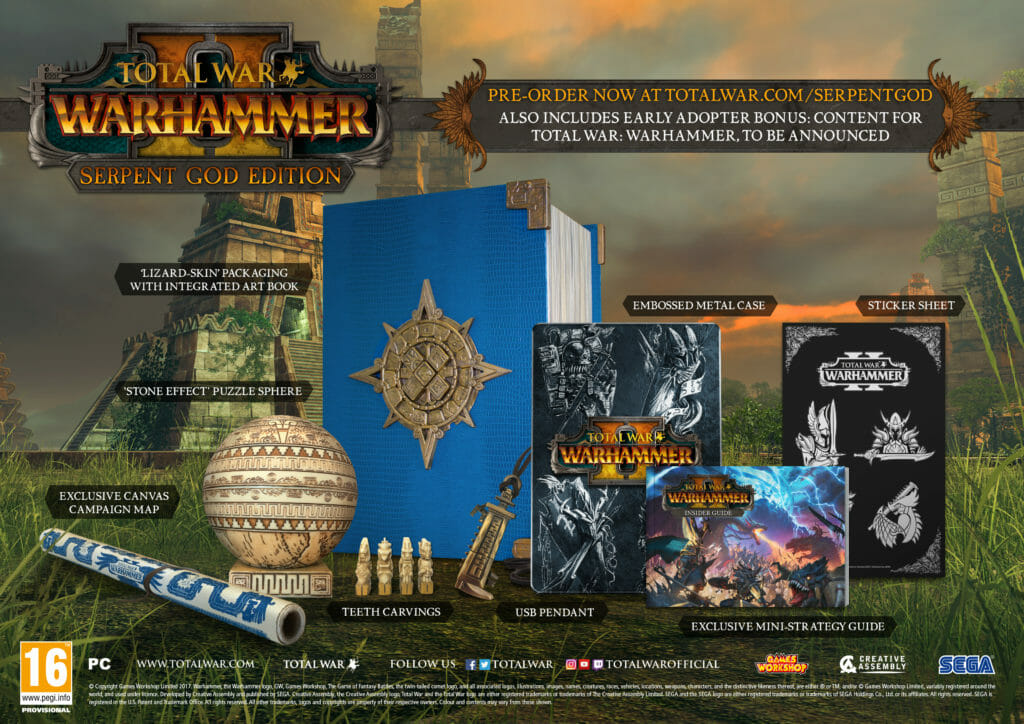 FAQ
Edition Questions
What Editions of the game are being released?
There are three different editions. A standard boxed or digital version, a Limited Edition, and a Serpent God Collector's Edition.
Where is the Serpent God Edition Available?
Exclusively from our webstore, here
What's the difference between the Limited and Serpent God editions?
The rare Serpent God Edition comes with a range of collectable items in a presentation box; including a Slann puzzle globe, carved teeth totems, canvas map, Saurus Warrior Blade USB, art book, insider strategy guide, new Race Pack DLC for the first game and more. More details are available here
A Limited Edition, featuring the insider strategy guide and sticker sheet in a steel case will also be available from SEGA approved retailers. Information on the Limited Edition can be found here
Is there a limited supply of Serpent God Editions?
Yes, only seven thousand will be made.
Does it match the High King Edition?
Yes, and they'll look fantastic sat next to each other on your shelf!
What language is the insider strategy guide in?
the Language of the Strategy Guide is set by Territory:
UK             Includes English text only in the Strategy guide
FR              Includes French text only in the Strategy guide
GE              Includes German text only in the Strategy guide
US              Includes English text only in the Strategy guide
Do you have a list of system requirements yet?
The system requirements for playing Total War: WARHAMMER II are not likely to rise much, if at all, over WARHAMMER I however we do not have the official requirements available quite yet
Does the Serpent King edition only come with a CD copy of the game? 
No, it will come with a CD copy and a Steam key
Do all Early Adopters get the Race Pack DLC for free?
Yes, anyone who purchases Total War: WARHAMMER II in the early adopter period from a SEGA approved retailer will receive the Race Pack DLC for free
What size is the Saurus Warrior Blade USB?
4GB.
Early Adopter Bonus Questions
Do I have to pre-order to get the Race Pack DLC for free?
No, it's an early adopter bonus. You can buy Total War: WARHAMMER II in the first week after release and still get it for free as well.
Do I have to pre-order or buy in week one to get the Race Pack DLC ?
No, you can also decide to buy it when it releases, or at any time in the future. But it's only free when purchasing Total War: WARHAMMER II as a pre-order or in the first week of release.
Will reviews be available before release?
Yes, just the same as with Total War: WARHAMMER. We will make sure that both journalists and YouTubers will have the game early enough that they can publish their reviews before launch day.
I'm not going to pre-order without knowing what the DLC is!
That's ok, we will show it to you very soon, and you will still have plenty of time to get it for free if you like it.
Why do you offer a bonus for Early Adopters?
We obviously want our games to be played by as many people as possible at launch, so it's useful and very effective for us to reward early adopters. We could promote the game's launch through advertising in other ways (like buying adverts on websites) but we think that spending marketing on creating content for the game that can then be offered for free is also a good way of promoting it.
Race Pack DLC Questions
What game is the Early Adopter Race Pack DLC for?
The Race Pack DLC is for Total War: WARHAMMER, the first game in the trilogy that's already released. But, the new Race will also eventually be playable on the extra combined campaign map, which is a whole new, massive campaign available shortly after the release of Total War: WARHAMMER II, and accessible by owners of both games.
What's in the Race Pack DLC?
We will shortly announce what the Race is, but it will be a completely reworked faction for the Old World complete with new units including some unique new monsters, 2 new Legendary Lords each with unique skills trees, quest chains and unique starting positions.
When does it come out?
That has yet to be announced, but the DLC will be playable before the release of Total War: WARHAMMER II.
Do I need to pre-order to get it?
No, you will be able to purchase the DLC on its own if you do not wish to pre-order or buy Total War: WARHAMMER II in the first week.
Will it come with Free-LC?
Yes. All owners of Total War: WARHAMMER, regardless of whether they own the DLC, will have that race appear/update in the game and will be given new challenges to deal with in their campaigns. We are also releasing Free-LC alongside the new Race as well, stay tuned for more info shortly.
Ordering questions
When is the payment taken?
For pre-orders, you will be contacted a few days before shipping and will be reminded that your account will be debited.
What if I want to cancel/refund my order?
For any inquiries pertaining to a return, please contact our customer support 
How/where to order?
You can order your Serpent King Edition here
Will I definitely get my order on day one?
We do our very best to deliver your order on the day of the release. However, shipment delivery may vary according to your location or shipment method. As soon as your package is dispatched, you will receive a tracking number by email, giving you an estimated delivery date.
How will I get my Race pack DLC for the first game if I order the CE?
Email addresses will be taken at checkout and people will be emailed their codes when the product goes live.
Are there delivery charges?
Yes, the shipping costs for your order will be detailed in the checkout process before you pay.
Where do you ship to?
Only the residents of the following countries, are eligible for physical delivery: USA, Canada, Australia and Europe. You can find the list of authorized countries when submitting your shipping information at checkout.
Further details on ordering through our store are available here