"Please never make me shout as much again!": an interview with THREE KINGDOMS voice actor Paul Hyu
Total War: THREE KINGDOMS
---
---
The voice actors of Total War: THREE KINGDOMS play a big part in adding that living spark to both the game and its larger-than-life characters. This time we spoke to Paul Hyu, who has been lending his voice to noble and charismatic alliance leader Yuan Shao, also known as the Dragon of the Yuan.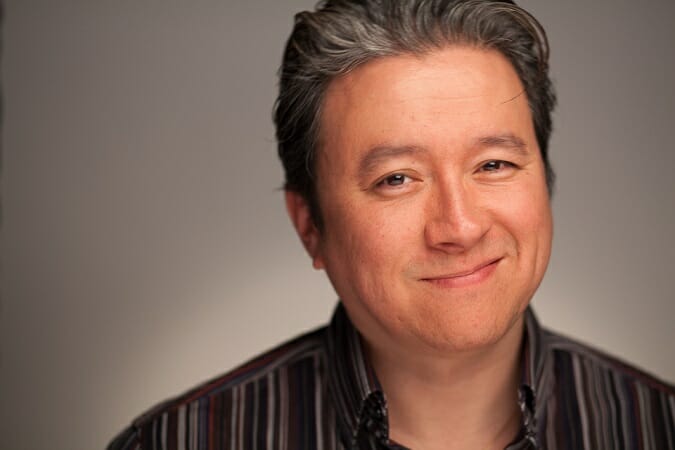 CA: Hi, Paul! First of all, can you tell us a bit about yourself?
Paul Hyu: I have an 18-year-old son. I was born in London and grew up in Harrogate, North Yorkshire. I went to drama school in London in the 1980s when it wasn't the done thing for Chinese kids to do.
CA: How did you get into voice acting?
Paul Hyu:  I did my first radio play in the late 80s with Burt Kwouk. I then was asked to do a voice over for an ITV show called World in Action – I kind of fell into it. I was one of the first voices of "premium" rate telephone numbers around that time. It was better work than anything else I could get at the time. I was one of three actors working for a company called Audioline and one of the other two actors was Doug Bradley, who went on to fame as Pinhead in the Hellraiser films. 
CA: You play Yuan Shao in Total War:  THREE KINGDOMS. How familiar were you with the period and literature already? Did you do any additional research into the character and/or the Romance of the Three Kingdoms for the role?
Paul Hyu: I wasn't very up to speed on the story to start with. I read what the company sent me, which was quite comprehensive, and Googled the character to find he had his own Wikipedia page!
CA: Do you see any similarities between the personality of Yuan Shao and yourself?
Paul Hyu: He's not a young man and a bit portly, so there's that obvious physical connection. He's also a bit grumpy, which I think comes with being old and portly.
CA: While working on THREE KINGDOMS is obviously your favourite role so far, what are some of your other favourite voice acting gigs to date?
Paul Hyu: I have been in over 25 BBC radio plays since that first one with Burt, and my favourite was a recent one that was about the true story of the South Korean film director Shin Sang-Ok (who I played) who was kidnapped in the 70s by Kim Jong-Il and escaped in the 80s.
CA: What about non-voice-acting roles?
Paul Hyu: I played a survivor of the Marchioness Disaster, Jonathan Phang, in an ITV movie about it.  He became famous as the presenter of the US TV show America's Next Top Model. I did a lot of underwater filming in Pinewood and one scene in particular had me trapped under a fridge underwater and having an out of body experience. It was based on Jonathan's own testimony that he wrote for the inquiry. I have never met him but we are now Facebook friends.
CA: What's the most unusual role you've ever played?
Paul Hyu: I played a full-skin dog (that means I had a full costume, which would get disgustingly sweaty) for a children's Xmas production of Cinderella at the Unicorn when it was at the Arts Theatre in the West End. It was hilarious to have hundreds of little children screaming at me and getting very upset when I was destined to be killed – but luckily for them I survived!
CA: A little bird tells me you sometimes assume the guise of Chinese Elvis – can you tell us a bit about how he came to be?
Paul Hyu: In 1999 I played the part of Timothy Wong in the new play Martha, Josie and the Chinese Elvis at the Octagon Theatre in Bolton. It was such a big hit that I got letters backstage asking whether I would perform at other events. I had no work, so I did! And this was so successful that I became Chinese Elvis professionally. I have 20 years later now done around 1,000 shows from places like a guy's front room in front of the telly, a party boat moored off the west coast of Barbados, and closing the 2012 Latitude festival.
CA: Do you play many video games yourself?
Paul Hyu: Absolutely none! Though I have started playing online pool on my phone in the last three months.
CA: What advice would you give people wanting to get into voice acting?
Paul Hyu: Find your niche. It's a competitive world, so the less competition the more likely you'll get hired!
CA: Thank you for your time, Paul! Any parting words?
Paul Hyu: Please never make me shout as much again! You almost killed Chinese Elvis!
Stayed tuned for more interviews with the cast of Total War: THREE KINGDOMS!