The Total War: WARHAMMER III Summer Championship Finals!
---
---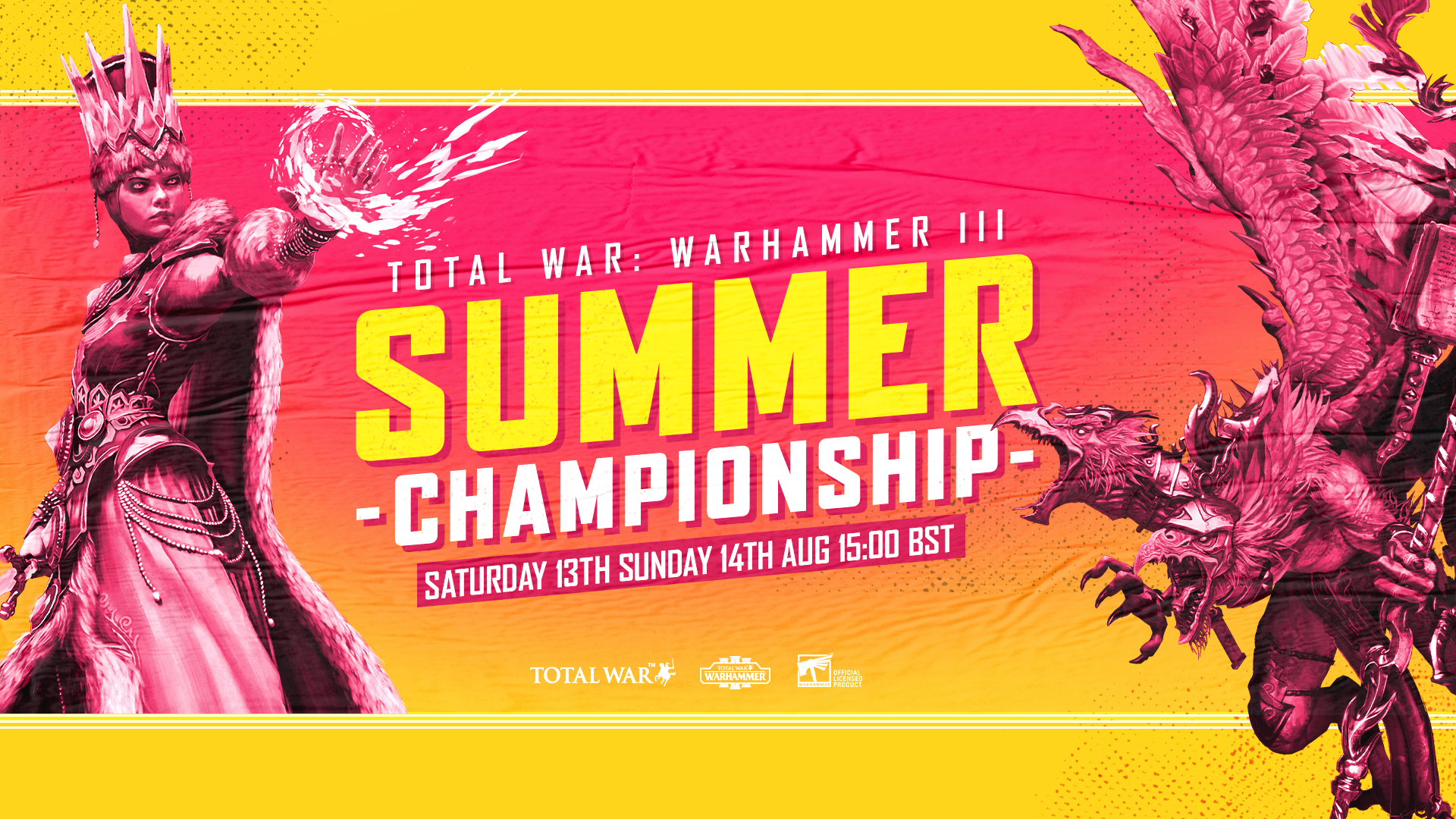 Welcome, Total Warriors, to our first ever Summer Championship Finals!
You may remember a few months back when we announced the Qualifying rounds of our first official Total War: WARHAMMER III Immortal Empires tournament. For the first time ever, the event was open to everyone, and what an *incredible* response we received!
With hundreds of entrants and over a thousand games of domination played, we now have our eight Qualifiers for the finals, each of whom will be vying to become the first ever Total War Champion. Expect intense battles as each of them build their roster using ANY of the released WARHAMMER I, II, or III factions—including our four, brand-new upcoming Champions of Chaos.
THE CHAMPIONSHIP FINALS
The final rounds of the Summer Championship kick off tomorrow—Saturday, August 13—at 3pm BST on the official Total War Twitch and YouTube channels, and will be hosted by the legendary DahvPlays and Loremaster of Sotek. After the Round of 8, Sunday will play host to the Semi-finals and Finals—also kicking off at 3pm BST and hosted by Turin and ItalianSpartacus—leading up to the crowning of our very first Total War Champion.
As a reminder, here's what they're competing for:
🏆 1st Place: $1,500
(+ the title as the first Total War Champion!)
🥈 2nd Place: $1000
🥉
3rd Place: $500
(All amounts above are in USD)
Alongside this, stick around for the winners of Cody Bonds' Cinematic Competition, which will be revealed during the event on Sunday; be sure to tune in and enjoy some incredible community-made cinematics!
THE ROAD TO THE FINALS
Eight qualifiers; one champion!
The road to the Summer Championship has been incredibly competitive; so, before the Championship begins, let's take a moment to hear from those who survived the gauntlet and claimed victory.
The first to qualify was Zone, who won Enticity's Qualifer. Zone currently has two tournament wins under their belt and is a seasoned Total War multiplayer veteran. We asked them to share their journey leading up to this moment:
ZONE
"I have enjoyed the Total War series since Rome. The fantasy elements of WARHAMMER in conjunction with the new Domination game mode got me curious about Multiplayer, and the welcoming multiplayer community made me stay. Due to great players like Alfredino and Enticity at ODM, I was able to catch up and compete at the highest level of competitive players. Now I'm curious how far I'll get on this journey.
Good luck and great games to all the qualifiers."
The second tournament was hosted by Hugothester. Ranger emerged victorious and simultaneously secured their first tournament win. As a relative newcomer to the scene, we asked them about their experience with WARHAMMER III:
RANGER
"I was not very good at WARHAMMER; my main focus was always on the historical Total War games, and WARHAMMER was a distraction from those titles. But when I heard that WARHAMMER III had a new combat mode, I put down history for a while…and it turned out to be pretty good! So, I picked it up and joined into the competition."
Next up was Turin with one of the largest sign-up rates of any qualifying rounds. In the end, it was Reginald Pugginton who emerged victorious to earn their slot:
REGINALD PUGGINTON
"I've kind of been here from day one of WARHAMMER I. My first tournament (hosted by lionheartx10) was one of my favourites; I played through the entire thing with a Dwarf box only to lose to Lotus Moon's Wood Elves in the finals. Since then, I've kind of been playing WARHAMMER on and off but always end up coming back to the competitive multiplayer—in large part because genuinely appreciate the community, like Aerocrastic (who did so much for competitive multiplayer) and other clan members of QSA and XMT, who kept me playing up until this event."
Hitting our mid-way point was Elkai's qualifier, in which Randommnix—a seasoned Total War player—managed to secure their place:
RANDOMMNIX
"Hey! I'm Randommnix from Poland. My journey with Total War began with Shogun 2, when I immediately fell in love with the series from that point onwards. I have always dabbled a bit in the multiplayer in those games, but it wasn't until WARHAMMER II—when a player called Lotus Moon beat me during a quick battle, then invited me to his Discord server—that my competitive journey really kicked off. Since then, I got into the scene and started playing in tournaments and such.
A big appeal of what I like about the multiplayer in those games is that the endless variety of units and factions offers an edge over your opponents by using underutilized and less well-known units. This gives almost every unit in the game a meaningful purpose in the meta if you are willing to dig hard enough, and as such, can provide a real sense of mastery over a given faction."
GrommashTV hosted our next qualifier out of South Korea (although it was still open worldwide), where we saw Evenstar join the championship. He shares his particularly unique journey to the Championship round:
EVENSTAR
"During the very first qualifier, I was the first one to reach the semi-finals as a top four player and was waiting for others to join while resting from the previous rounds.
Suddenly, my internet shuts down…
I pay for it a whole year ahead, so I completely forgot that it would stop working precisely at this day and time. And it's already past midnight; I have no internet and no way to pay for the internet—all stores and terminals are closed—so in the middle of the night, I woke up my friend with a phone call and asked him to pay for the internet.
When I returned, the second semi-final pair were still playing. I was defeated at that point and thinking that all my efforts were in vain; in the end, however, I made it to the Finals through another qualifier…and here we are!"
From across the channel, in France, M4F hosted one of our final tournament qualifiers, and houseplant—currently considered one of the best players in the WARHAMMER III multiplayer scene—did not disappoint:
HOUSEPLANT
"I started playing multiplayer at the launch of Attila and played competitively through the first few months of WARHAMMER I. After a long break, I returned to the competitive scene in June of 2021; I've really found my groove with the release of WARHAMMER III and the Domination game mode—which allows for far more in-depth macro strategy than the previous games."
Our penultimate qualifier was run by Yabgu Nizam Pasha, from which the competitor, Grimm, made his way to the championship round:
GRIMM
"My Total War journey began with Shogun 2, which was the only Total War game in which I regularly played multiplayer. I have been playing the Total War: WARHAMMER series since the first game came out, but never played multiplayer regularly. Thanks to my friends' encouragement (or pressure) and new Domination mode, Total War: WARHAMMER III presented an opportunity to return to the multiplayer setting.
Now, the journey to finals has been fun, and I am happy decided to give it a try. My favourite race is Skaven, and I like Ikit Claw a lot."
Finally, DahvPlays ended our series of qualifiers on the 29th June with a bang. From the fray, Platypus emerged victorious—another player considered one of the best on the scene:
PLATYPUS
"I never was much of an RTS player; I usually preferred turn-based games. When WARHAMMER III came out, though, I was very excited to try the Domination mode.
After making it into the top 100 on the ranked ladder, a friend convinced me to sign up for one of Turin's tournaments. I ended up coming in second after beating several very skilled players. That gave me confidence I needed to make it all the way here."
WATCH THE FINALS THIS WEEKEND!
Join us tomorrow at 3pm BST to see all eight competitors battle it out to see who becomes the first ever Total War Champion!
See you on the battlefield!