"Talking and reading chat at the same time – it's harder than it looks!": taking a look at the Total War content team
---
---
If you're a Total War fan, chances are you've watched something created by the content team.
First established in 2017, its aim was to make a crack internal team of content creators who could use their game knowledge to make let's plays, screenshots, and other gameplay assets needed by the Total War team, as well as dabbling in community video creation and graphic design.
We sat down and chatted with Tom Hawkins about the team's past, present, and future – check it all out below!
Leading the pack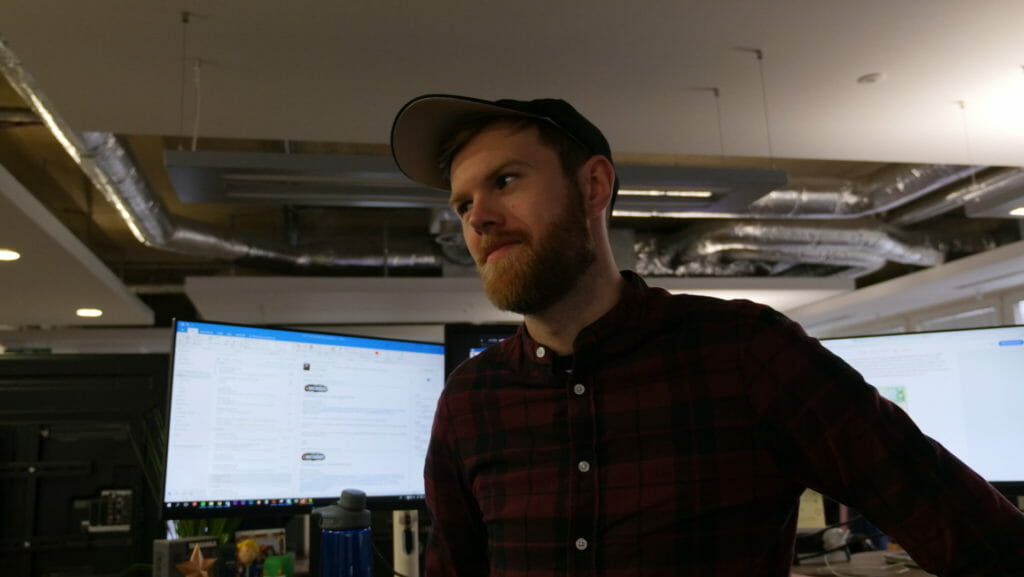 Tom Hawkins, the content team's current lead, came to Creative Assembly following a stint as a freelance video editor. With a history in web design in development, he taught himself how to edit video, going on to do a lot of corporate and top ten videos for various YouTube channels.
When he applied for the job, he made himself as a ROME general stat card – a move that apparently impressed as he ended up being hired.
Like the majority of those working at Creative Assembly, a typical working day for Tom can vary greatly: "Whether it's reviewing the team's content, creating videos, or being on livestreams, no day is the same in this team – which I personally really enjoy!"
And what games does Tom play when he's off the clock?
"I mainly play strategy games and first-person shooters. I've played Total War since ROME I, and have been playing shooters around the same length of time. My favourites are PUBG and CS: Source, but my guilty pleasure game is FIFA."
Equipment, setup, and software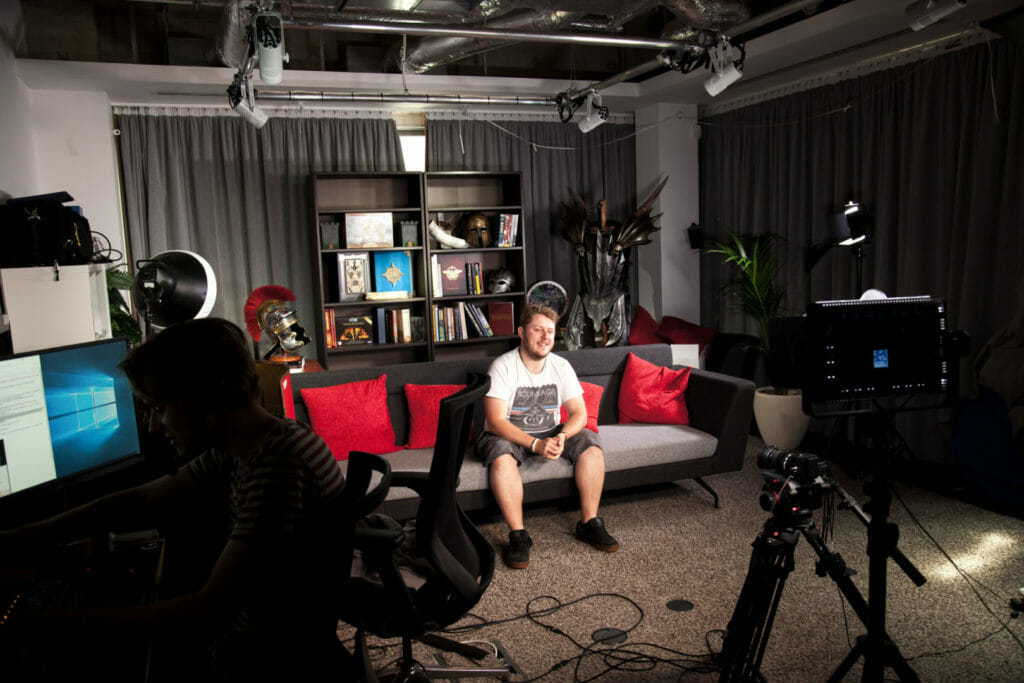 A team is only as good as its tools – so what does the Total War content team use?
For their live footage, the content team uses a Lumix GH5 camera, while in the dedicated streaming room they use Blackmagics.
The streaming room itself is located conveniently close to the content team's desks. An old meeting room converted into a studio, it's now known as Total War: Live.
In Tom's words: "We're about to get slightly nerdy about streaming setups. We have three PCs – two for gameplay for the player and the host, then a third that runs the broadcast. We have internal capture cards which input the gameplay (and host screen) into vMix [the team's broadcast software of choice]. We then have a production desk with all our screens set up and an Elgato Stream Deck which allows us to change the scenes, mute audio, etc. from the gameplay desk – which means we don't need a full-time producer sitting in on the streams (efficient!)."
The other half of the room is mainly used for Tabletop Tuesdays and the Total War Bake Off. This is a two-camera setup with a roof camera and the all-important camera one.
And a perk of the job: "One bonus of being in the content team is having capture PCs. They're absolute beasts, and it means we can play pretty much any game at lunch on Ultra graphics."
Creating Total War content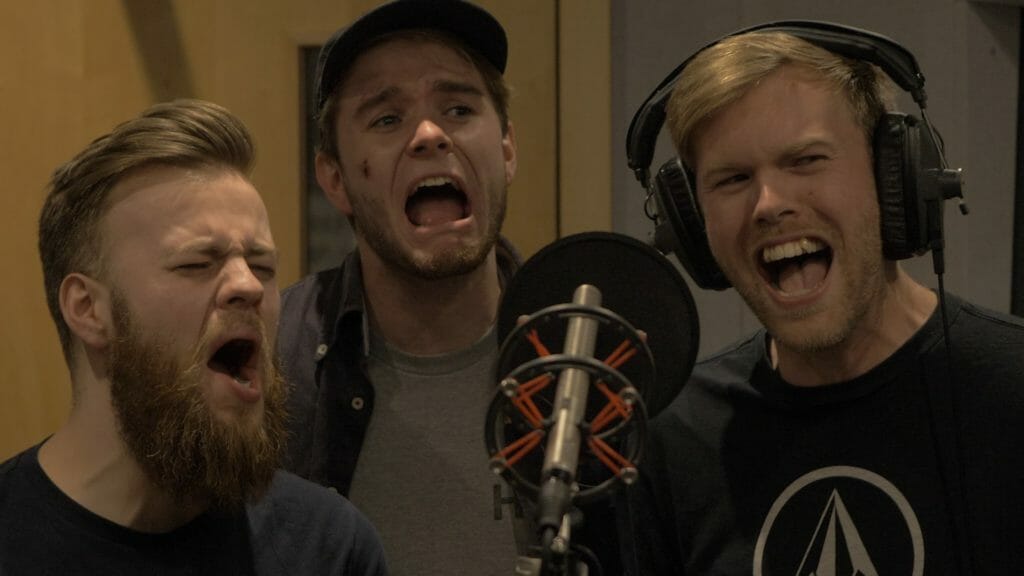 Working on Total War content is different from working on content for almost all other games.
Tom sees this as a positive thing, however: "I actually think Total War provides a lot more freedom than other games when it comes to content creation. You have an inbuilt camera that you can change the field of view, move freely, and get close to units with – and you can also use this to provide a huge sense a scale! The only real issue we have is that, with it being a sandbox game, it's very unusual for everything to go to plan!"
It's not without its challenges, however: "The main one is that software and technology are always updating and changing – we literally don't touch anything and it still "breaks". However, this usually means that we just need to test, test, and test again. The other thing would be playing Total War and talking/reading chat at the same time – It's harder than it looks!"
It goes without saying that the content team also sometimes travels to big industry events such as Gamescom or TwitchCon, helping out with such tasks as filming, photography, or even hosting livestreams.
The future of the content team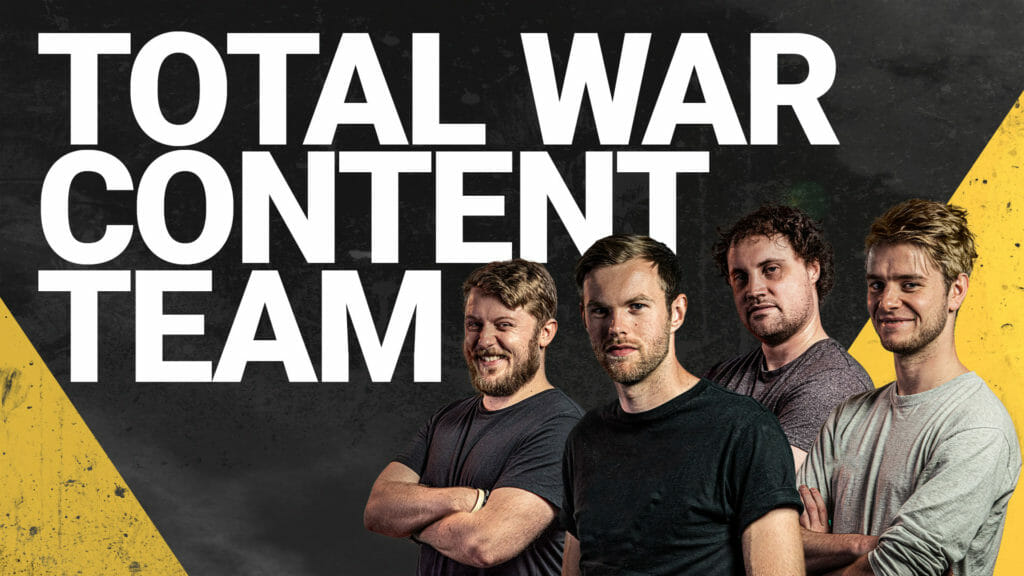 And what about the future of the Total War content team?
You may have already noticed a bit of rebranding going on:
"We have been adding new shows to our schedule over the last year, with Tabletop Tuesday focusing on board games and more recently Throwback Thursday seeing us play our back catalogue! These both have nice, new, modern, flashy logos, which made the Total War Live one look quite dated so it was overdue! Shout out to our brand designer Matt Wright for designing our new logos!"
The team also has some new additions joining the ranks. Dom started this month, and will be making let's plays and helping the team make further forays into live footage. The team has also hired somebody to focus on livestreams who'll be starting on November. As Tom says: "you'll be seeing bigger and better things coming soon!"
But what advice would Tom give people wanting to get into content production themselves?
"Practise, practise, practise! If you can play Total War, you can probably capture some gameplay too. Some of our audience already make great machinima, and Total War is a game that gives a lot of freedom when it comes to making gameplay video.
"I got into the industry by creating a YouTube channel and using it almost as a portfolio. Make sure you try something new with every video to develop your skills – and focus on your quality and not the views."
And finally, any parting words?
"See you guys later next time."