Total War's 20th anniversary has just passed, so we thought we would take some time to sit down and tell you about some of our upcoming plans. Grab a cup of tea.  
While we are working well from home and still releasing updates and working on games, it's not all smooth sailing and things are naturally moving around and ending up a little later than we thought. We're ok with that; hope you are too. 
So while 2020 has thrown us all for a loop and we've had to put a few of our plans on hold, we thought we'd take the opportunity to have a chat and give you some detail through a blog instead. 
A Total War Saga: TROY 
Troy's still on track for release on 13th August but don't forget, it'll also be available to claim for free within the first 24 hours – and we have just fourteen days to go! We'll have lots of reminders nearer the time, this is an opportunity that we hope you don't miss out on. 
Right now, the team's focused on creating the best campaign experience we can as we get ready for release; but post-launch we have a lot of plans for Troy, and some of those will be taking advantage of new features as they come online with the Epic Game Store and we activate functionality on our backend. Our focus is on getting you that opportunity to grab it for free first and foremost, but after that here's some detail on what's coming up. 
You'll see from the roadmap below that Amazons will be joining the game in September as our first DLC alongside EGS Mod Support (though you can still mod TROY the old fashioned way from launch), and what's more you can grab Amazons entirely for FREE if you're a Total War Access  account holder (although this will be a limited time offer!). We'll add multiplayer in November and Blood & Glory in October, and plenty more before the end of the year – and we'll have even more detail on Amazons to share with you next week.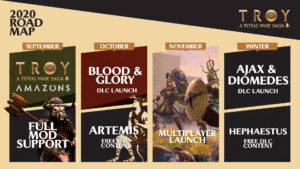 Total War: WARHAMMER II 
The realm of the Wood Elves returns… 
We can reveal that the next DLC for WARHAMMER II is indeed a Lord Pack, focusing on the Wood Elves, and we will also be revisiting  one of the original core races from WARHAMMER II. 
This Lord Pack is packed full of all of the great content that you've come to expect from Total War DLC, but this time we are excited to talk to you about a few additional ways we are giving a little extra back to our fans who have joined us on this journey through the Warhammer world! However, there's a couple of things that you need to know about it, so please take a glance through the below for a bit of a breakdown 
For owners of Total War: WARHAMMER II 
You're getting a full and complete Legendary Lord Pack that will introduce you to two brand new Legendary Lords, each with their own factions, objectives, mechanics, units and playstyle. As always, you'll be able to use them in the Eye of the Vortex campaign, and custom/multiplayer battles. We'll also be dropping an awesome new free hero, for all Total War: WARHAMMER II players to enjoy. 
For owners of Total War: WARHAMMER and Total War: WARHAMMER II:
We'll of course be continuing our Old World Updates for Mortal Empires so you can use all your shiny new content in the Mortal Empires Campaign. This update will also bring some reworks for the Wood Elves faction and some general Mortal Empires updates to the game. 
For owners of Total War: WARHAMMER, Total War: WARHAMMER II and The Realm of the Wood Elves DLC Pack 
If you've been with us since the beginning, we have a few additional surprises lined up that make this, already jam-packed DLC, even more interesting.
If you've collected all that content you'll also get a bonus legendary lord with all the trimmings! We can't wait to introduce you to her.  
We're looking at this DLC as something that's really for the players who want to complete their collection. While you can absolutely buy it and get a ton out of it if you only own WARHAMMER II, it's also true that you'll get the most out of it is if you own WARHAMMER , WARHAMMER II and the existing Realm of the Wood Elves DLC, and we think it's worth us being upfront about that here.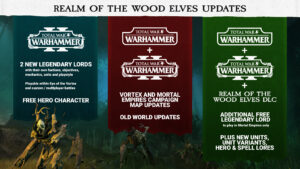 | I own… | Buying or Owning this DLC will give me… |
| --- | --- |
| Just WARHAMMER II (I'm not buying this DLC) | Free-LC hero, Game Update. |
| WARHAMMER II and this new DLC | The above, plus 2 Legendary Lords, new units, characters mounts, and the ability to play as Wood Elves in the Vortex Campaign using this new Lord. |
| WARHAMMER I, WARHAMMER II and this new DLC | All the above, plus Old World Update for Wood Elves in the Mortal Empires Campaign. |
| WARHAMMER I, WARHAMMER II, Realm of the Wood Elves and this new DLC | All the above plus additional new Wood Elf Legendary Lord, new units and characters for use in Mortal Empires. |
Is this all too confusing? Don't worry, we'll be announcing it properly soon and we'll have plenty of very clear info on what you get depending on which games you own. We hope it works, and you get a kick out of it because then it means we'll be allowed to do it again. And we really want to add everything we can to Total War: WARHAMMER.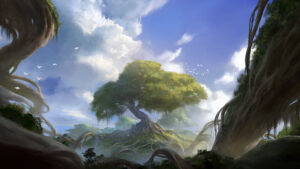 Total War: THREE KINGDOMS 
The Nanman are coming – in fact, they're lined up to be our very next DLC release. We're very excited, and we think this pack has a lot of great stuff in it that you're really going to enjoy. 
You've seen Chapter Packs before, but this will be our first Expansion Pack DLC for THREE KINGDOMS, and it's a large one. 
First off, something that a lot of you have been asking for is coming – gate pass battles and settlements will be added to the campaign map helping to make core passes much more defensible (and some impassable shallows around Chang'an to stop the Yellow river being used to quickly take it). 
We don't want to give too much away yet, but we can also let you know that if you don't want to buy the DLC there will still be a new Free-LC Lord for the Han, new options to stop characters dying from old age at the beginning of the campaign, and some UI changes that we think will make a big difference. 
Plus there'll be some things added that you'll never forget…  
Having said that, there is a minor issue that might bother some of you, so we want to get out ahead of it. Hulao pass is sort of in the wrong place. We know and we're sorry, these things happen!  
Hulao Pass is positioned North of Mount Song, and we have placed it there on the THREE KINGDOMS map. The issue is that the mountain is in the wrong place. This was pointed out to us but at a place where fixing it would break all of our internal saves. Our focus is on making sure the upcoming release is as stable as it can be, and having to start over with getting saves to help us bug fix and balance the game came with too many risks. 
This is something that we're going to correct in a future update, so rest assured that we're aware of it. That map update will come with the second Expansion Pack DLC that will focus on building out the North of the map.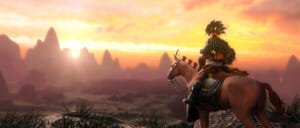 Total War: ELYSIUM 
A huge thank you to all of you who have tested our new CCG so far, as a result we've got some great feedback on our Total War take on the genre. The abstraction of battlefield tactics up to a card game level is proving pretty interesting to get to grips with, and there's always the random joy of seeing Lagertha face off against Dong Zhou… 
We're now running a test on PC as well as mobile and we'll be opening up the test to a few thousand more players over the coming months. You can get notified by registering your interest here.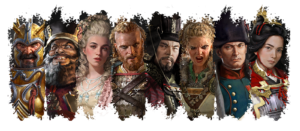 The future 
One event the current world situation has certainly put the crimpers on is us announcing our next major Total War title.
As you can imagine it's all a bit chaotic here at CA, so please bear with us. 
Total War Access 
One final thing. We hope you're enjoying the THREE KINGDOMS official soundtrack, trailer music compilation and other recent bonuses on Access. There will be loads more to come, including that chance to grab the Amazons DLC for nothing. 
A long planned for goal and major feature for Access we're working on is the ability for you to link your different store accounts through it, so TW games and DLC you buy in one store will transfer to the others. This means that, for example, you can buy a game in one place, and then take advantage of a DLC sale in another. Plus, play multiplayer with people on different platforms. We're working on it with our retail partners at the moment and we'll let you know when we've more to share. 
That's it for now, a load of stuff happening, stay hooked up to our social media or TotalWar.com for all the latest news and details – it's going to be a busy year…  
Total War: THREE KINGDOMS – Simplified Chinese
南蛮很快将会到来 – 事实上,它就是我们接下来将要发布的新DLC。我们都为此感到兴奋不已,因为我们相信它的内容精彩纷呈,能够让大家沉浸其中。
相信大家都已经见到了此前发售的几个"章节包"。但不同以往,南蛮将会是我们发布的第一个"扩展包",并且会是一个大型扩展包。
首先,许多玩家心心念念的改动即将实现 – 关隘战斗和一些新城镇加入了游戏当中,这些关隘将会使一些重要的路线更加易守难攻(我们也在长安附近的黄河河段加入了几处不可通过的浅滩作为防止长安被快速攻陷的阻碍)。
我们并不打算在此处透露太多信息,但是对于那些不打算购买这个DLC的玩家,我们将推出一个新的免费DLC,为大家增添一位可选汉势力人物;另外,大家现在可以通过在战役开始时勾选相关选项使将领不会因为年龄而老死;以及其他一些我们认为会让游戏体验更加完善的UI变化。
此外,还会有更多令人难以忘怀的东西在南蛮扩展包中等待着大家…
除却以上,我们在这里解释一个未来可能会令一些玩家感到困惑的缺憾: 虎牢关目前在游戏内的位置有一点偏差。我们知道,我们很抱歉,不过有时候这种事是会发生的。。。
虎牢关历史上在嵩山以北,我们在游戏内也将它放置在了这个位置。但问题出现在游戏内的嵩山位置有误。虽然我们发现了这个问题,但是如果现在尝试修复将会破坏我们所有的内部存档。我们的主要目标是确保游戏发布时的稳定,若需要重新获取全部存档的话那么会对我们修复Bug以及调整平衡造成太多影响,对我们而言风险实在太大。
但是别担心!这个问题我们将会在未来修复。下一次的战役地图更新将会随着第二个扩展包一起到来,届时我们将会专注于建立地图的北部地区。