The Everchosen Fall Invitational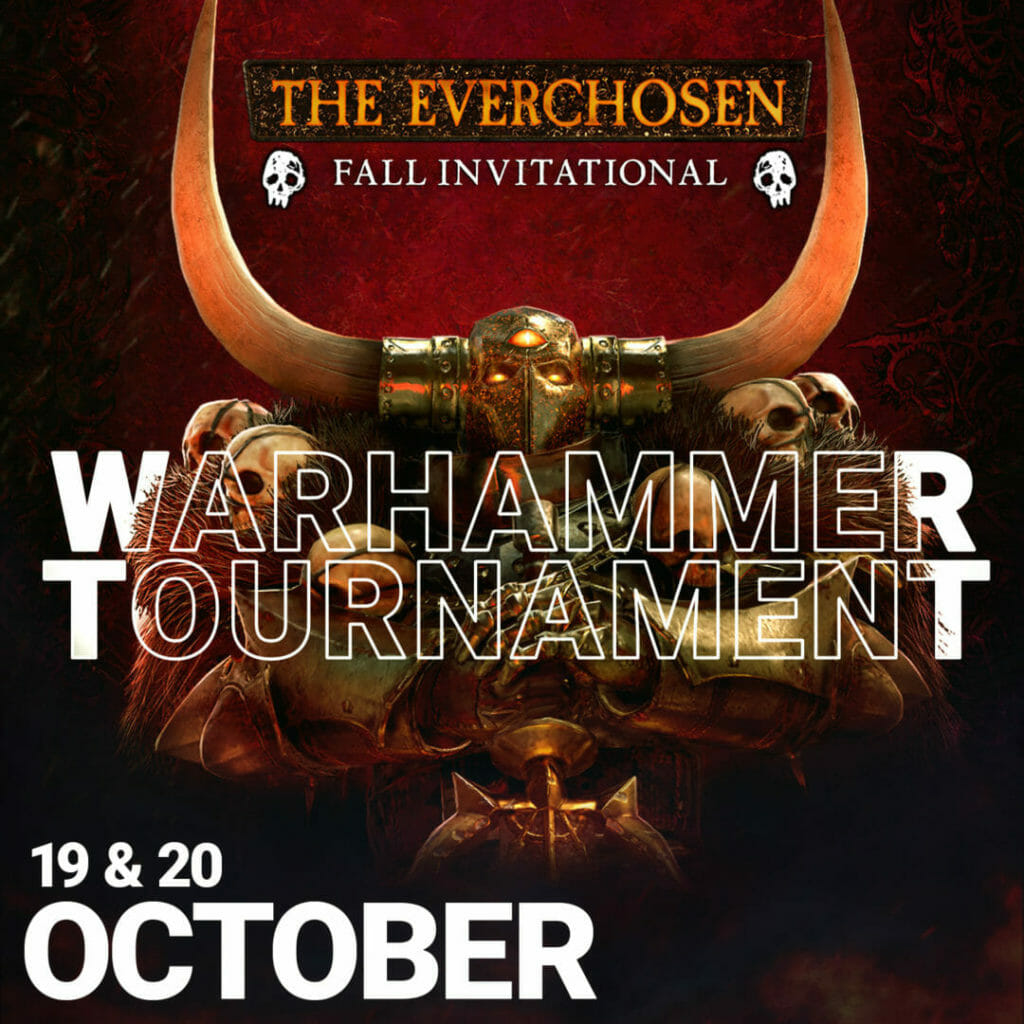 After the success of our previous Everchosen tournaments, we're bringing you another action-packed weekend of competitive multiplayer battles. On the 19th and 20th of October 2019, we'll be streaming the Everchosen Fall Invitational live from the Creative Assembly studio! Find everything you need to know below…
The lowdown
When is it? Saturday the 19th and Sunday the 20th of October 2019, kicking off at 16:00 BST/11:00 EST/08:00 PST on both days
Where can I watch? On the official Total War Twitch or YouTube channel
What are they playing? Total War: WARHAMMER II, with all the DLC and free content
What are they playing for? A share of the cash prize pool (1st place: $1,000 | 2nd place: $500 | 3rd place: $250) as well as the coveted Everchosen title
Can I compete? Not this time – the event is an invitational and all places have been filled
What else will be going on? In between matches we'll be going over replays with in-depth analysis, and there'll also be a half-time showmatch on each day
What if I miss a match? VODs will posted on the Total War YouTube channel
The broadcast team
Bringing you live commentary, analysis, and world-class banter throughout the event will be the mighty Turin, Italian Spartacus, Loremaster of Sotek, and PartyElite.
Turin – One of the most prolific and informed commentators of the Total War series, Turin is master and commander of a Total War: WARHAMMER and real-time strategy channel on YouTube, delivering a heavy focus on competitive multiplayer, tournament breakdowns, and game analysis.
Italian Spartacus – From WARHAMMER and WARHAMMER 40,000 lore videos to Total War campaign and competitive matches, Italian Spartacus covers the many facets of these overlapping worlds with encyclopaedic knowledge and a terrifying Gollum impression.
Loremaster of Sotek – Lore expert on all things Warhammer Fantasy, Loremaster of Sotek is season one champion of the VVILD HAWGS YouTuber Bloodbowl League and a veteran three-time Everchosen competitor. He'll be leaving his lore books behind (or perhaps bringing just a few with him) to give us his expert input on this Invitational's matches.
PartyElite – A newcomer to the Everchosen broadcast team but definitely not to Total War, PartyElite get to grips with the games on a regular basis on his YouTube channel, where his popular series Total Breakdown showcases some incredible WARHAMMER-based clashes.
The competitors
Meet the right top eight top Total War: WARHAMMER II players we've invited to take part in the Everchosen Fall Invitational based on their skill, reputation, and flair.
TlaxtlanSoothSayer – Tlaxtlan Soothsayer is a long-time Total War multiplayer veteran whose fondest memories hearken back to the days of SHOGUN 2. Although the historical Total War titles will always hold a special place in his heart, WARHAMMER quickly became his most played game. Due to his stunningly accurate predictions of future events, Tlaxtlan Soothsayer achieved over 40 tournament victories and won two Everchosen Invitationals in Total War: WARHAMMER I and II. As has been foretold by the Slann Mage-Priests, Tlaxtlan Soothsayer will be resolute in his duty to prevent the Warmbloods from interrupting the Great Plan.
KingoftheDead – Having taken third place in the previous Everchosen Invitational, this Tomb King aficionado is ready to rattle some bones. Fond of French fries, thinking about the end of all time, and the colour pink, KingoftheDead could easily be adding another placement to his tombstone this Everchosen.
Felkon – Do you like dragons? Great, because Felkon likes dragons too. He's been playing WARHAMMER since birth (okay, well not quite, just a year actually) and he enjoys nothing more than a good old-fashioned melee mash. Ever the competitor, Felkon can be found in just about every multiplayer game in existence, so much so that you may begin to see him as a built-in feature. Felkon will take what is his with fire and blood, so see you on the battlefield, champ.
Aerocrastic – Aerocrastic is a long-standing veteran of the Total War series and is considered one of the most prevalent army hypothesis crafters in the Total War: WARHAMMER multiplayer community. Winner of the third Everchosen tournament and consistent placer in many others, he is looking to add another to the list of accolades. Although best known for his Skaven play, he is also known for many more, and has a dynamic playstyle revolving around unit synergies and wrestling for control of the tempo of a battle. He was crowned third – will he be the fifth too?
Chief – The one, the only, the notorious BBB Chief hails from Spain and is here to make waves. Promising to always make his matches passionate and beautiful, he insists: "The other guys are hopeless."
Xiphos – Xiphos is a French player who laments having never played Total War: NAPOLEON. A huge fan of RTS game since childhood, getting his first PC ("Yes, I was playing on a Mac LOL") meant he was finally able to play Total War: ROME II and all the other Total War titles he'd previously missed. And then a dream came true: Total War: WARHAMMER got released, bringing all those miniatures to life. A campaign player initially, Xiphos was drawn into multiplayer after his favourite faction – Wood Elves – was released. He then met ShetlandApache, who told him about the tournament scene, and since then he's been competing as part of the multiplayer community and competitions at a high level. In his own words: "I am a huge fan of elves (thank you, Lord of the Rings), so naturally my most played factions are the three Elves – but I have more than one string to my bow… pewpewpew!"
HjalleNalle – Swedish born with a love for games and a Great Plan to go with it. HjalleNalle's interest in WARHAMMER start when he found the cover for a Lizardmen army book in a Gamestop store as a child. He was too young to understand anything at the time but was fascinated by the pictures and models. His curiosity was rekindled when he saw the trailer for Total War: WARHAMMER. He mainly played campaign until WARHAMMER II rolled around, bringing with it his favourite fat toads. It was then that he started diving deep into multiplayer to make sure everyone was in line with his Great Plan.
DahvPlays – With a lance in one hand and a pistol in the other, Dahv is here to rumble. You can find him on YouTube, with daily multiplayer battles with a heavy focus on stats, synergy, and quality information. While he most enjoys blasting heretics for Sigmar or trampling trash for the Lady, he showcases all factions regularly. A veteran of the Total War franchise, Dahv is honoured to be part of his third Invitational.
The bracket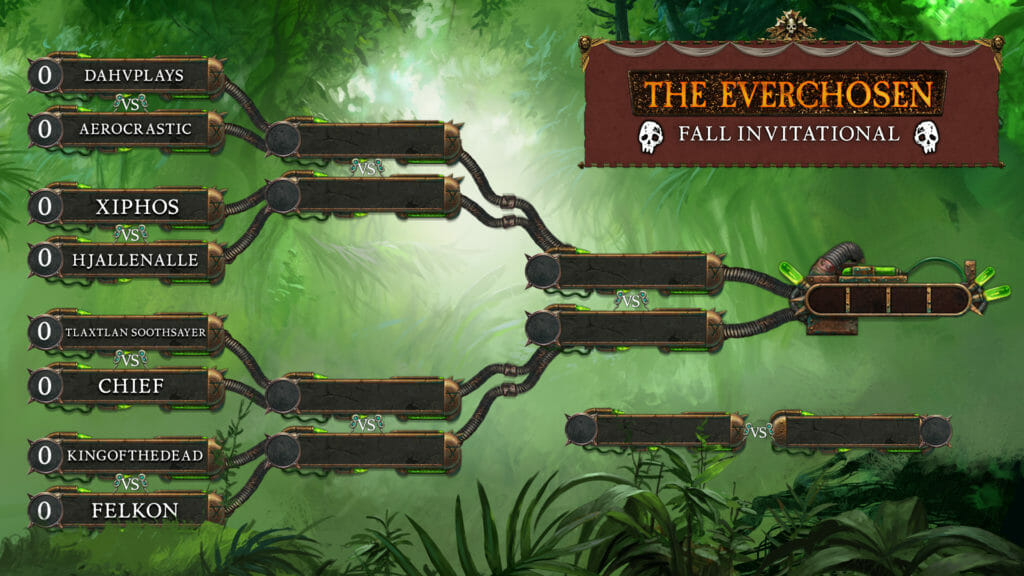 Stay tuned!
Make sure to follow the official Total War Twitter account for all the latest updates about the Everchosen Fall Invitational before, during, and after the event!