Let your foes feel the fury of winter with Kislev's campaign mechanics
---
---
Welcome back to our series of articles on faction mechanics in Total War: WARHAMMER III. Today we're heading north to the icy lands of Kislev, the ward of the world against the machinations of Chaos and humanity's finest line of defense against the threat of corruption. A fierce belief in their land, its people, and the power of their Gods to stand against the Chaos seeping from the North – whispering dark secrets and desires, crushing and infecting all those it encounters – keeps the nation alive. They have endured much, but they will continue until their mastery of the North is complete and Chaos is driven from the wastes once and for all.
Devotion
If it hasn't been clear, Kislevites are a fairly religious sort. When you're freezing to death on your 50th day since you last saw your family, digging at the ice to get ever closer to literal daemons and make sure they aren't coming for your home, your people, and everything you hold dear… well, it helps to have something to believe in. In-game, Devotion is a representation of how well your faction is upholding the ideals of Kislev and how easily it can keep the passion of the common people focused on destroying Chaos.
It is gained primarily through exactly that – combating and destroying the armies of Chaos. Defeating Chaos-aligned armies provides some, while sacrificing the captives post-battle gives another chunk. Various buildings and decisions can also generate devotion, the gods of Kislev responding to the attentions of their people.
Should it dip too low, Chaos armies may attack your homeland, finding it all the easier to manifest and invade a people who no longer believe they can be stopped. Devotion will drop when you commit heretical actions, like declaring war on other Kislev factions. It can also be spent on buildings and technology that are closely aligned to the faith. These can be great places of worship, for example, or improvements to the invocations the people of Kislev use to worship their gods. Speaking of which…
The Motherland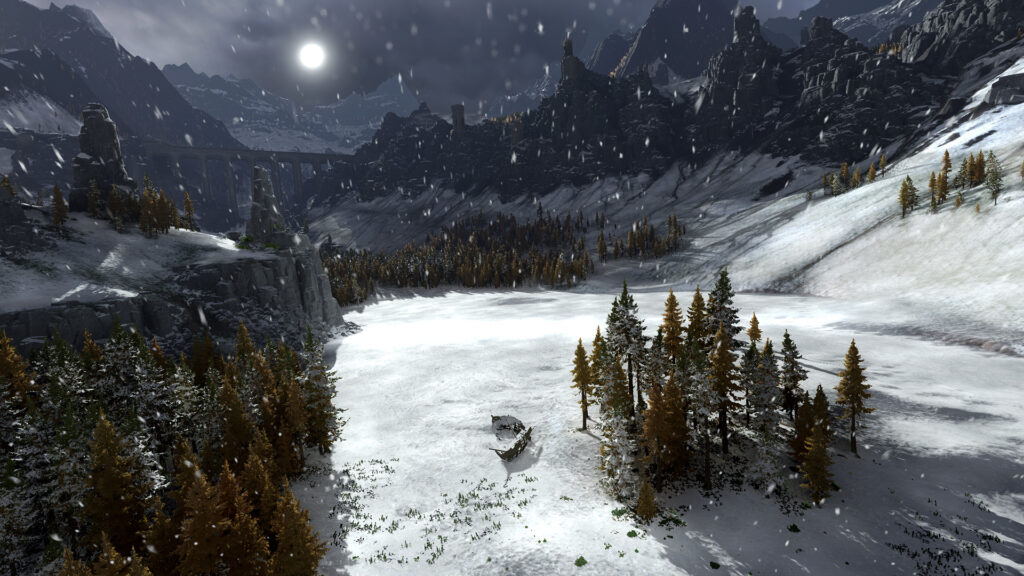 The primary use of Devotion is to perform one of four rituals to the Motherland. These represent honouring one of the four main Gods of the Kislevite faith. They, their areas of worship, and the effects of their ritual are:
Salyak

God of healing and comfort, a teacher of common sense, but cannot bring back the dead.
Increases growth and replenishment rate factionwide.

Dazh

God of fire and the sun, legendary for giving knowledge of fire to ancient human warchiefs.
Increases income from trade and all buildings.

Ursun

God of bears and seen as the shepherd and protector of Kislev.
Causes attrition to all enemies in your lands and provides a unique army ability that puts a powerful hex on a target area.

Tor

God of thunder and lightning and a mighty warrior who cracks the sky.
Gives all armies additional melee attack and bestows a unique army ability to massively increase damage potential in an area for a time.
Each ritual to the Motherland also causes a great winter to whip across Kislev lands, spread snow across any battles in their lands and dissuading attacks from enemies. Should your devotion be enough you can switch between or continue the effects at will. These great storms and rituals also serve to incite the populace to support your faction. Which brings us to…
Supporters and the spiritual conflict for Kislev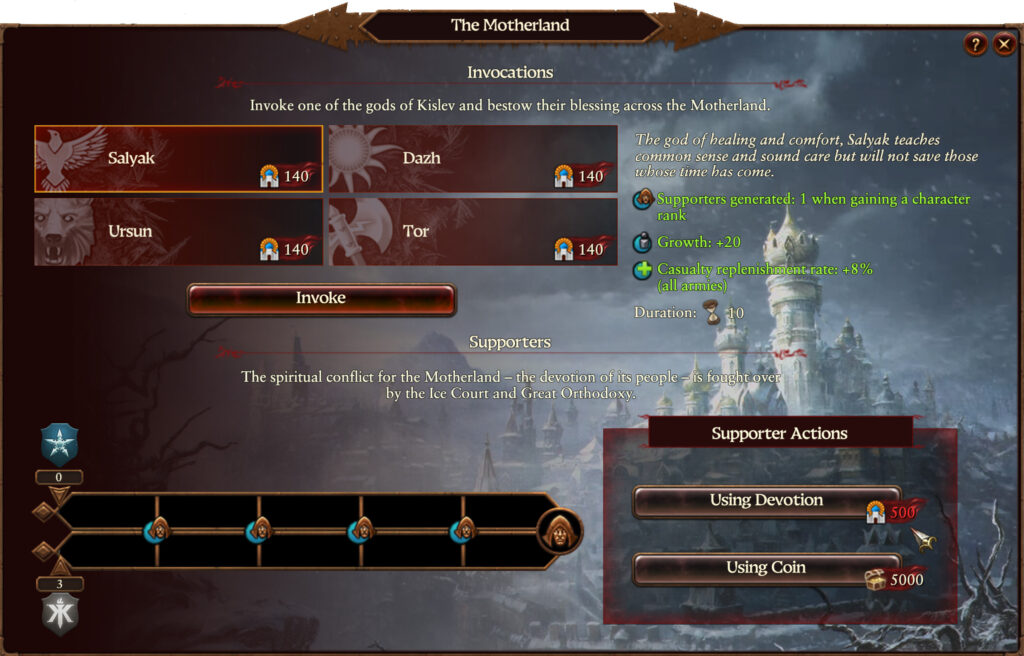 Kislev is a nation divided. While it remains resolute against the coming of Chaos, the death of the Red Tzar and the rise of his daughter Katarin to the throne has thrown the political landscape into disarray. There are two major factions: Tzarina Katarin and the Ice Court standing opposed to Supreme Patriarch Kostaltyn and the Great Orthodoxy. The two dare not declare open war against one another – no matter their hatred for the other's position, it would simply be too costly for the nation and civil war is already a reality on both their borders.
However, they are gathering followers in the hope of proving that their faction is the greater and should be the one to lead Kislev, as one nation, into the future and against the forces of Chaos. Gathering followers comes from any number of sources, further enhanced by which rituals you decide to undertake and passive gains from certain buildings.
As a faction gains more followers, they will increase their relationship with the minor factions of Kislev as well as proving to the people and the troops that they are the rightful leader. Should the vast majority of Kislevites choose one side of the other, it will become dominant, confederate their opponents, and reign supreme. Of course, both factions are more than willing to spend gold or devotion to smear their opponents.
This is the spiritual conflict for the Motherland and its people. Whoever wins will still have Chaos, the Empire and their Vampire-spawn to the south, Ogres and worse to the east, and much more to deal with. 
Atamans and the Great Cities of Kislev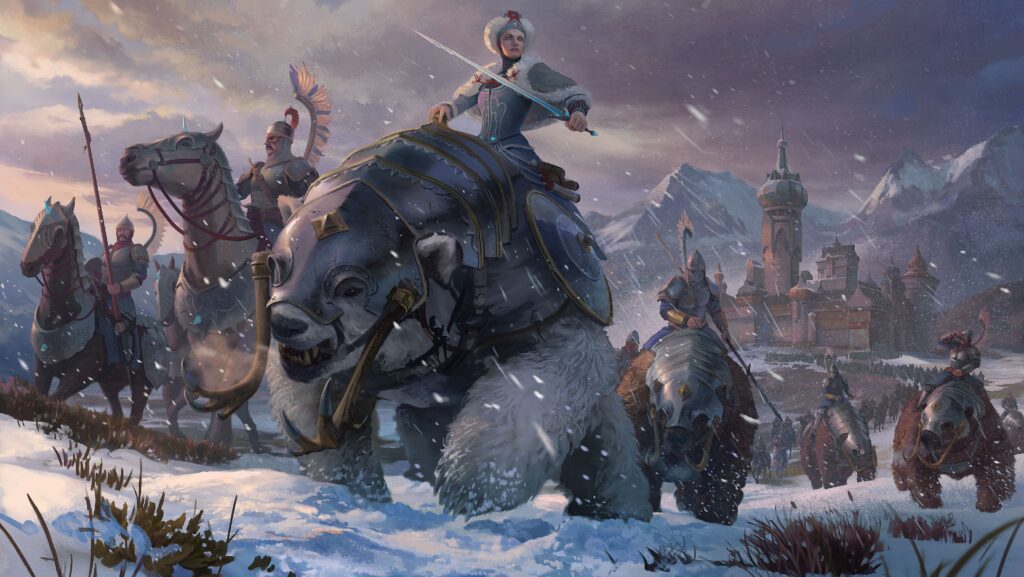 Kislev has a strict hierarchy of order within its society, and Atamans are what sit between the Tzarina and her people. They are the rulers of cities and regions, conducting the everyday business that keeps the nation ticking over and ensures Chaos cannot get a foothold.
In-game, they are special lords, recruited to serve a province and can affect the income, growth, control, and corruption of the area. They also have various special effects and can develop more as their career continues. They do not earn XP like traditional lords but will face various dilemmas to increase their skills.
However, in times of dire need (or, well, whenever you like, really) Atamans can be drafted as lords to lead armies. This has no initial cost as you already control the Ataman, though they lack the battle-specific random traits of normal lords, and they won't be providing their province benefits while they're in the field. If they die, they're gone, and a new one will need to be recruited to run their province.
You get one Ataman per two provinces you control. However, while for some races and areas of the world that would represent a half-dozen settlements or more, the layout of Kislev is somewhat unique. Three great cities dominate much of the landscape – Kislev, Praag, and Erengrad. It has been many moons since the three were united under one banner, but together they represent the nation.
The geography of the area also leads to some other massive, single settlements, such as the Skaven Hell Pit to the North. Between these great areas are scores of smaller towns and villages, scratching out a living and funding the war efforts with men, farms, and weapons. Which deserves the attention of your Atamans is up to you.
The Ice Court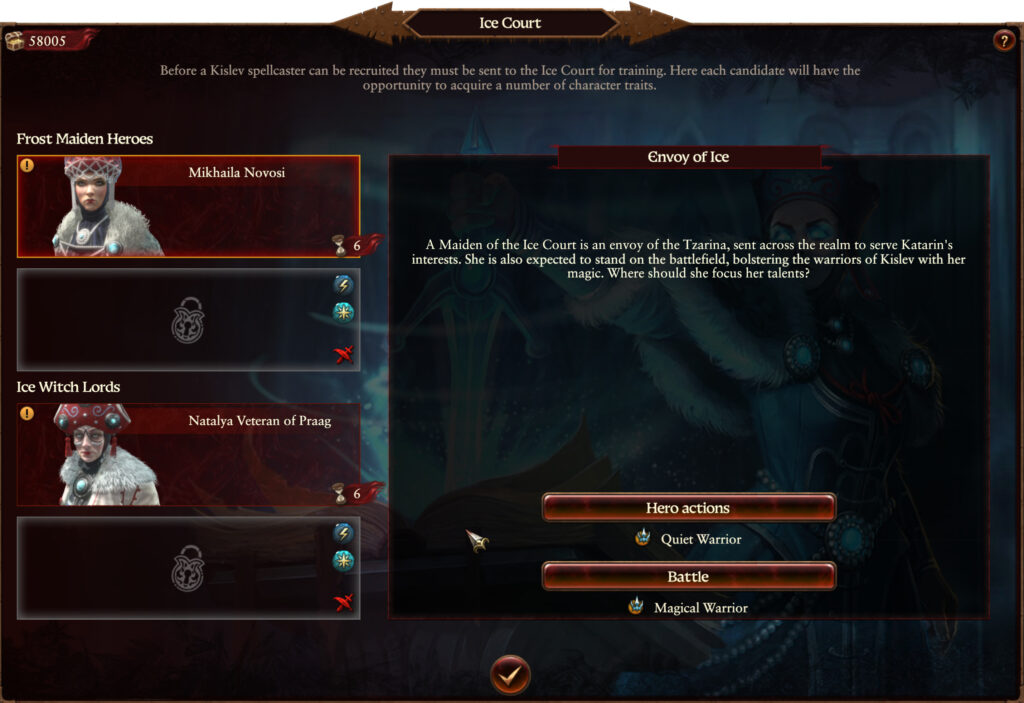 The Ice Witches and Frost Maidens of Kislev are not simply born with their extraordinary powers and the wherewithal to use them. Dedicated training must be undertaken, and the costs and decisions related to that fall on your shoulders. Rather than simply hiring these lords and heroes, you must first pay for them to go through a training regimen.
While this means hiring a new hero or lord takes many more turns, it also gives you the opportunity to mold them into what you currently need. Each turn in training will give you decisions on how you would like your new recruit to specialise – which lore of magic, which abilities, which passive bonuses for troops under their command.
Different technologies change the number of Ice Witches and Frost Maidens that can be trained at any one time, as well as the recruitment capacity for them. Once training is complete, they are added to your recruitment pool as normal, at a discounted price (as you already paid for the training). They can then be recruited whenever you have the desire, money, and slots to do so.
Naturally, Kostaltyn does not adore that, if he is to wield the winds of magic in his armies, he must pay for training of those he despises. It is up to him – and, therefore, you – how much you do that, but the uneasy peace between the Ice Court and the Orthodoxy gives him access to the same tools as anyone else.
Tech Tree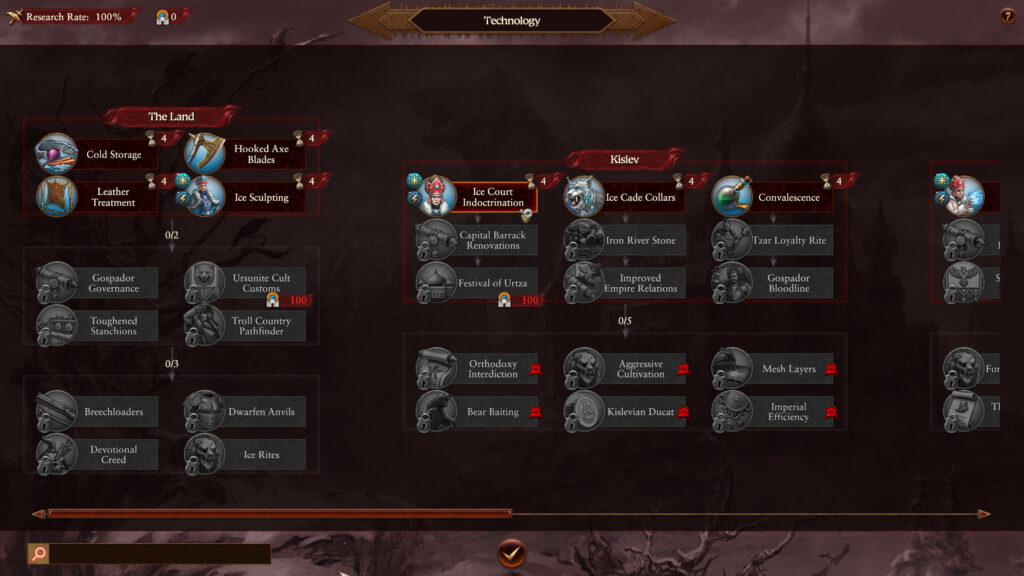 Finally, and as we mentioned in our Cathay piece, we'll be detailing the tech trees of the individual factions, as each is subtly different and focused in a specific direction. For Kislev, their technology focuses on four key areas – the land, and the three great cities. Each contains three groups of technologies, each of which requires a number from the group before to unlock. Within a group, several of the technologies may also be linked.
To begin with, a few technologies in each set are available. Progressing along the Land path simply needs a few from each box completed to unlock the next. However, the three tracks based around the great cities – Kislev, Praag, and Erengrad – require those cities to be in your faction. Each city focuses on differing upgrades across a host of units, income types, and other benefits.
As you can imagine, uniting all three cities under you gives a significant advantage in terms of what you can do and the power of your settlements and armies. It may provide some… surprising results as well.
Be humanity's bulwark
Those are the basics for running Kislev. Little remains but to ride your bear to battle and defeat the hordes of Chaos swarming from the North and out of the very Chaos realms themselves.