Introducing the Total War: WARHAMMER III – Spring Championship; in partnership with Intel
---
---
The forges are lit and the horns of battle sound once again.
In celebration of the upcoming Forge of the Chaos Dwarfs DLC, we have partnered with Intel to bring you the Total War: WARHAMMER III – Spring Championship, a clash of some of the greatest and biggest names in the multiplayer community!
The invitations have been sent and the competitors are practicing right now, learning the ins and outs of Patch 3.0 and the new race that's ready to shake up the scene.
For the first time ever, we've partnered up with Intel for this Championship! Their support has allowed us to make the Spring Championship bigger and better than ever before – that means not only more prizes for the competitors but also new ways for you, the viewer, to win Forge of the Chaos Dwarfs Steam keys across both days.
We'll share more news about that on the day itself, but a big thanks to Intel for everything they've done to help us make this Championship the most exciting we've ever held!
You'll find all the details of where to watch and what to expect below.
THE SPRING CHAMPIONSHIP
Wednesday, April 12th – Thursday, April 13th @ 16:00 BST
WHERE CAN I WATCH?
On the official Total War Twitch and YouTube channels. Replays of the event will also be posted on the Total War YouTube channel.
WHAT IS THE FORMAT?
Domination mode on a work-in-progress Total War: WARHAMMER III: The Forge of the Chaos Dwarfs build.
WHAT IS THE PRIZE?
All amounts are in USD:
🏆 1st Place: $1,500
+ the title of the next Total War Champion!
🥈 2nd Place: $1,000
🥉
3rd Place: $500
4th Place: $250
5th-8th Place: $100
CAN I COMPETE?
Not this time. We're trying out some exciting new things in this tournament, and our focus has been on getting those right and ready. However, we do hope to run another set of qualifiers in a future tournament.
Here are the competitors: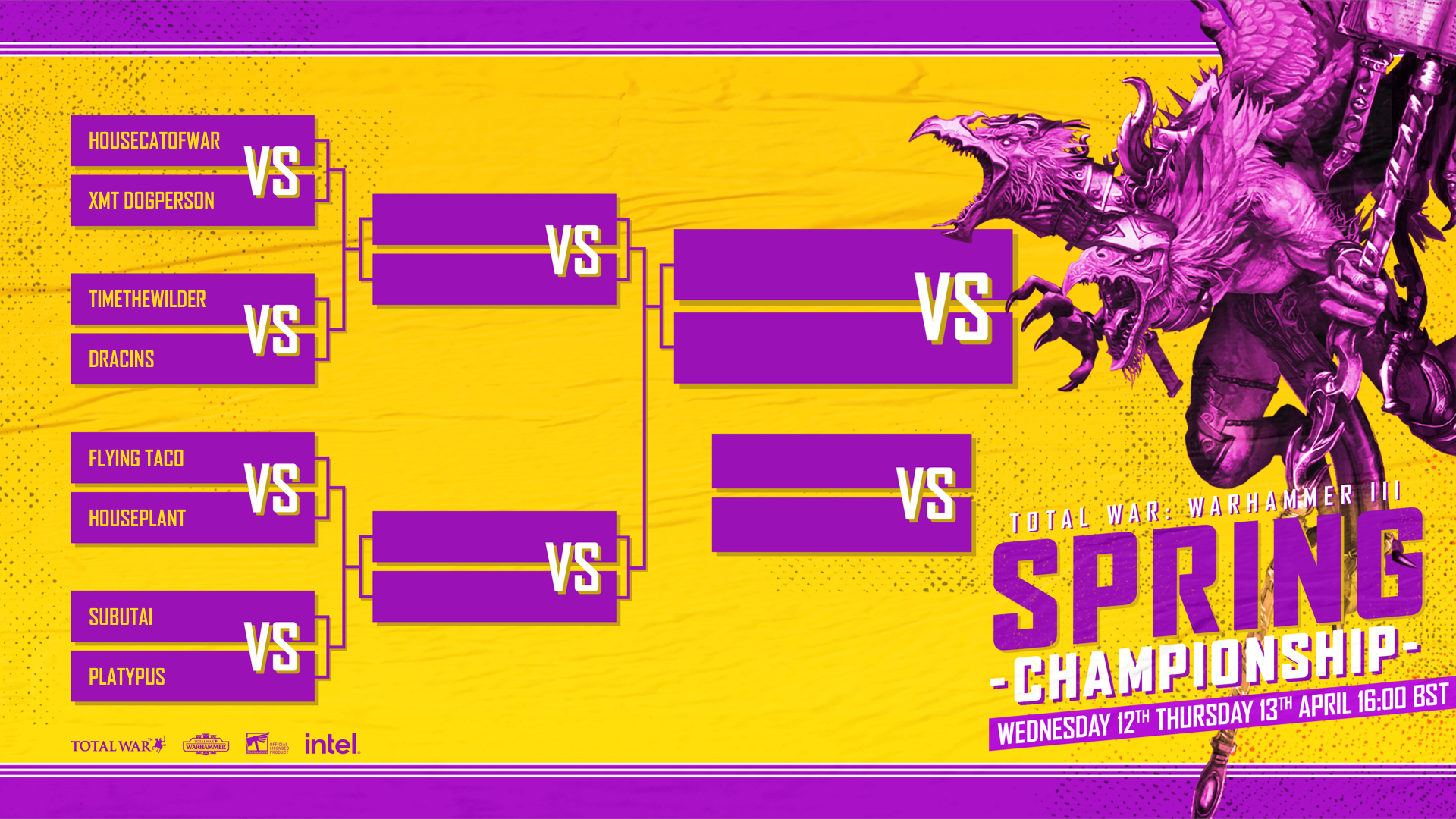 WHAT ELSE WILL BE HAPPENING?
We have some exciting showcases planned, including:
A fresh doomstack video from Okoii
A video showing everything on offer in the Mirror of Madness from JackieFish
A brand new Noob's Guide from Cody Bonds
And a live, interactive playthrough of The Infinite Portal mode from Turin and ItalianSpartacus
A competition over both days on Twitch, with your chance to win Chaos Dwarf codes! More details to come on the day (terms and conditions here)
STAY TUNED!
Make sure to follow the official Total War Twitter account for all the latest updates about the Total War: WARHAMMER III – Spring Championship.
Also sure to follow Intel Gaming to learn more about the Mirror of Madness modes, coming to Total War: WARHAMMER III on April 13th!